Abbott fires Cowichan school board for not submitting balanced budget; new official trustee appointed
Jul 03 2012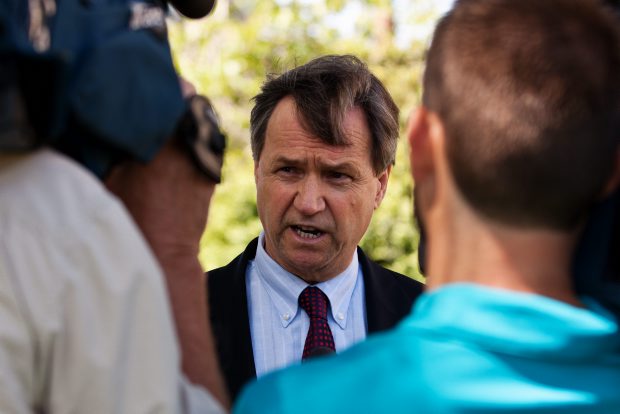 Education Minister George Abbott talks to reporters Sunday outside the B.C. legislature.
Photograph by:
Darren Stone , timescolonist.com
The nine-member Cowichan Valley school board has been fired and an official trustee appointed in their place after the board failed to submit a balanced budget, Education Minister George Abbott announced Sunday.
In an interview Sunday, Abbott accused the school board of "political grandstanding." The school board said it plans to appeal, school board chairwoman Eden Haythornthwaite said.
The school board voted 5-4 last month to approve a budget more than $3.7 million in the red, because a majority of trustees felt they could no longer continue to cut the district's budget and still provide quality education.
A deficit budget would restore services that have been eliminated in recent years, including teacher-librarian time, intensive behaviour teachers and custodial help.
A minority of trustees, as well as district administrators and the provincial government, countered that the budget could be balanced without having to make deep cuts. They warned that approving a deficit would force the government to fire the board and appoint an official trustee, thereby robbing Cowichan voters of their elected voice.
The board had until midnight Saturday to submit a balanced budget to the provincial government. The board had stated it had no plans to do so. The government was equally clear that as a result it would dismiss the board. That happened Sunday.
Cowichan was the only school board of the 60 in the province that failed to submit a balanced budget.
"There were four of the nine [trustees] that consistently, along with the superintendent and secretary-treasurer, argued that a balanced budget was both possible, appropriate and constructive," Abbott said in a teleconference Sunday.
"I respect that often school districts have difficult choices to make," Abbott said. "There are always things that people would like to do; there are always certain special challenges that exist in each of the 60 school districts. But 59 have taken the time, the effort and the energy to ensure that they balance off."
Mike McKay, the Surrey School District superintendent, has been appointed the official trustee of the Cowichan Valley school district, Abbott announced.
Previously, McKay was the principal of Cowichan Secondary and superintendent for the Saanich School District, so he knows the area well, Abbott said. "He's a man for whom I have enormous respect."
As official trustee, McKay will take on all the duties and responsibilities typically required of a board of education, including conducting public board meetings and community consultations.
"My immediate focus will be to meet and work with school district senior staff for an overview of key issues and to plan next steps," McKay said in a statement Sunday. "I also look forward to connecting with employee groups and community partners to build a shared understanding of our commitment to provide the best for students."
Haythornthwaite said Sunday she's not surprised the government fired the school board, although the timing is unfortunate. They "decided to crush democracy on Canada Day," she said.
Haythornthwaite said the government's decision will be challenged.
"We have a legal opinion that tells us we are in a position to challenge it, and yes, we will be doing that," Haythornthwaite said.
In an 11-page legal opinion for the board, Vancouver lawyer Joanna Gislason says the government has the right under the School Act to remove trustees if they simply fail to submit a balanced budget in the absence of other competing factors.
But, she says, the trustees in this case have concluded that, by balancing the budget, they would be breaching their other duties under the act to improve student achievement.
She notes that there is nothing in the School Act that explains how to resolve a conflict where, in upholding one duty, trustees would breach another.
Abbott rejects the premise that balancing the budget comes at the cost of quality education for students.
"It is entirely possible to do both of these things," Abbott said. "This not an either-or.
"I am entirely comfortable that we are operating within the bounds of the School Act here in dismissing this board."
A judge may have to consider the law's language, as well as the Charter of Rights and Freedoms and human rights principles.
Gislason says the government's power to remove trustees "has been consistently narrowed" since Vancouver trustees lost a court challenge of their firing 27 years ago. The School Act now requires the government to justify its exercise of power.
In about the last 40 years, three school boards have been fired — North Vancouver school district by the NDP in 1996 and Cowichan and Vancouver school districts by the Social Credit government in 1985, Abbott said.
"This doesn't happen often, and it's not a pleasant thing to do, but it is something government must do if we are to ensure school districts fulfil their responsibilities to their constituents and to the taxpayers of B.C.," Abbott said.
If nothing changes, McKay will be the official trustee until a new board is voted in during the next round of elections scheduled for November 2014, Abbott said.
Haythornthwaite said the board was elected by the community. "The only people who I honestly believe can fire me is the people who put me here today."
ceharnett@timescolonist.com
We thought you might also be interested in..