Families say goodbye as HMCS Regina sails for Arabian Gulf
Jul 04 2012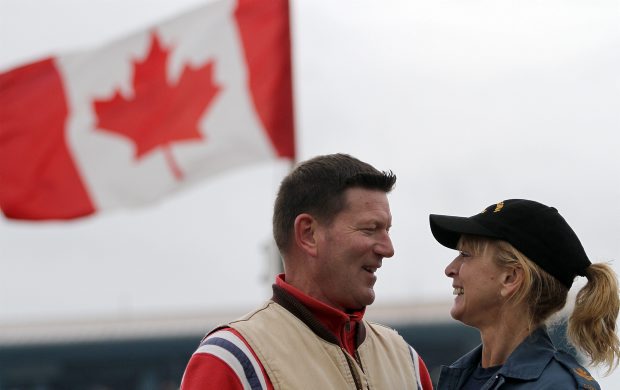 Petty Officer Tim Edwards, left, says goodbye to Master Cpl Dawn Meier during the send-off of HMCS Regina at CFB Esquimalt
Photograph by:
Adrian Lam , timescolonist.com (July 3, 2012)
As HMCS Regina prepared to leave Esquimalt Tuesday morning to join an international counterterrorism mission in the Middle East, Leading Seaman Andrew Fisher said farewell to his wife, Cheantelle, and two daughters.
Fisher is ready for his first big mission — as a naval weapons technician, he will provide maintenance to the radar and sonar systems on the ship. Despite his seven years in the Canadian Forces, there was still extra training before the deployment, he said.
"There were a few late nights. Lots of training with extra equipment, environmental training like fire and damage control."
Cheantelle is proud of her husband's work, but she's well aware of what he's sacrificing — especially when it comes to their two children, four-year-old daughter Liliana and 10-month-old Poet.
"My daughter's starting kindergarten this year. He missed Poet's birth and now is missing her first birthday," she said. "I appreciate he's giving a lot up so that we can have a better life."
Fisher was among about 260 members of the navy, army and air force waving goodbye to their families for the next eight months.
Rear Admiral Bill Truelove, commander of Maritime Forces Pacific, said the ship's company has been preparing for this deployment for their entire careers. "Over the past months, the ship's company have been compressing their individual skill sets and then from there, developing as a team. They'll do some more training between here and arriving in their theatre," he said.
The Esquimalt Family Resource Centre was in high gear Tuesday. Deployment co-ordinator Sandra Pinard makes sure families are supported while the ship is away, organizing coffee nights and workshops for children and facilitating teleconferences with those on board.
"We service military members, parents, girlfriends, boyfriends — whatever family means to them," she said.
Master Cpl. Dawn Meier is sailing for the first time on Regina, and will maintain the on-board helicopter. Her partner, Petty Officer First Class Tim Edwards, said they plan to keep in touch through email and phone calls.
Regina is replacing HMCS Charlottetown as part of the Canadian Forces' Operation ARTEMIS in the Northern Arabian sea region that borders Iran and Pakistan.
Navy Capt. Jason Boyd, commanding officer of Regina, said the capabilities of the ships are similar, with helicopters and similar numbers of personnel onboard, although Regina is equipped with an aerial vehicle detachment.
"The unmanned air vehicle — that's a new capability onboard. That's an example of how we continue to modernize and make sure we're ready to do whatever it is we're called upon to do when the ship is over there," Truelove said.
Operation ARTEMIS focuses on maritime security and counterterrorism operations in the Arabian Sea. Regina is joining the multinational Combined Task Force-150, one of three fleets co-ordinated by the United States. Pakistan is currently in command of CTF-150.
mkaralis@timescolonist.com
We thought you might also be interested in..
Notice
: Undefined index: event in
/home/viccity/public_html/v2/content.php
on line
67