Herons home in Beacon Hill Park
Jul 05 2012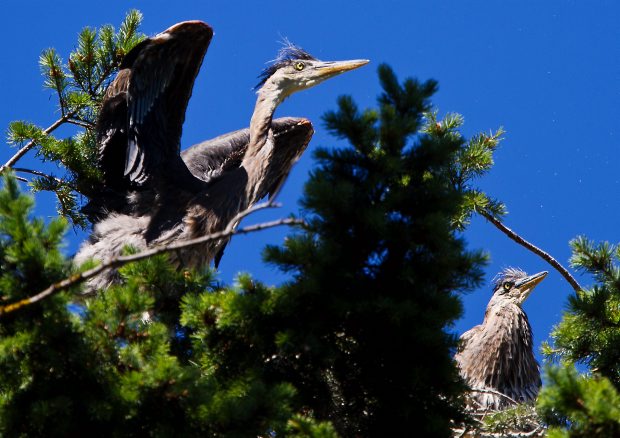 Biologists counted 54 nests in Beacon Hill Park last week, up from 19 in 2011.
Photograph by:
Darren Stone , timescolonist.com (June 2012)
Forced from their Beacon Hill Park nests four years ago by eagles, herons are once again taking up residence in the city.
Fifty-four nests have been spotted this year, up from 19 in 2011. It's the largest number of herons in the park since 2007, when a full colony in more than 100 nests lived there, city of Victoria environmental technician Fred Hook said.
Hook said that after being chased away in 2008, the population dispersed as far north as Cowichan Bay. The largest number went to Cuthbert Holmes Park in Saanich.
"Probably we owe the [herons'] return to the fact that eagles chased them out of Cuthbert Holmes again," Hook said.
Eagles prey on heron eggs, which has affected the herons' population.
"Herons' eggs are like candy to eagles," Hook said. "They're not a major food for them, but they're an easy, quick protein burst."
Hook said he was delighted to see the longlegged birds again, as the city has been making efforts over the past few years to entice them back, planting quick-growing trees like maple and cottonwood and leaving twigs out as nest material.
Trudy Chatwin, a biologist with the Ministry of Forests, Land and Natural Resources, said some of the 54 nests are in sequoia and copper birch trees - nonnative trees she's never seen herons use before.
"Because there are over 50 nests, this is considered a major colony and is a tenth of Vancouver Island's whole heron population," said Chatwin, who conducted the heron count last week with three of her colleagues.
Herons are having fewer chicks and nests, and are considered a species of special concern, she said.
And unfortunately for the herons, the birds they are at odds with are soaring.
"Eagle populations are high now at this point because we've stopped using pesticides, so their egg shell thinning issues have gone away and that's allowed them to increase in population," Chatwin said.
The herons in Beacon Hill Park can be best seen from the stone bridge, facing west toward Douglas Street.
mkaralis@timescolonist.com
We thought you might also be interested in..