What to do with used coffee cups
Jul 05 2012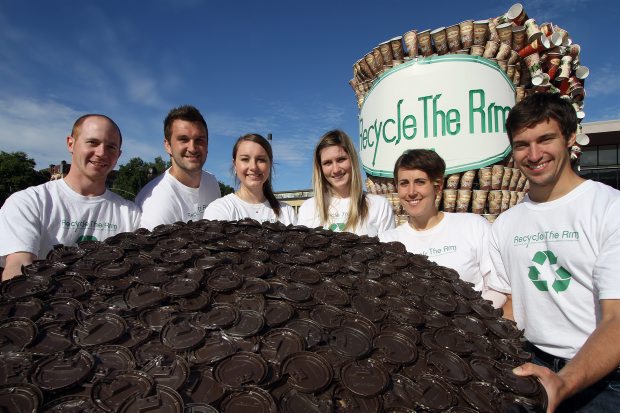 Royal Roads students Michael O'Regan, left, Max von Kleist, Erin Kerr, Kristyn Snell, Grace Campbell and Blair Hull holds the lid of their Recycle the Rim sculpture at Centennial Square on Wednesday.
Photograph by:
Adrian Lam , timescolonist.com (June 2012)
Disposable coffee cups from Tim Hortons got a second life Wednesday through a temporary art installation in Centennial Square.
Six Royal Roads University students constructed the two-metre-tall sculpture from more than 1,000 take-out cups reclaimed from garbage bins, as the culmination of their project Recycle the Rim.
"We were just shocked by how many paper cups are in the trash," said Blair Hull, 25. "Three team members, in about two hours, collected 450 paper cups - just from three local Langford Tim Hortons."
The students' strategy of focusing on one company is similar to campaigns by other conservationawareness groups.
The sculpture spent three hours in the square before moving along Government Street toward the Inner Harbour, to raise awareness about corporate environmental responsibility. Hull built the sculpture with classmates Grace Campbell, Erin Kerr, Kristyn Snell, Max von Kleist and Michael O'Regan as part of their professional communications program.
Recycle the Rim also includes a social-media campaign, blog and website (Recycletherim.com) with information about Tim Hortons' current recycling practices. Hull said the group was especially surprised to learn about a gap between stores in Eastern and Western Canada.
"West of Ontario, there are only nine Tim Hortons that offer recycling for their cups," he said, but in P.E.I., 19 of the company's stores offer paper recycling. "So there's a huge disparity there."
Nova Scotia has 156 Tim Hortons restaurants with cup-recycling receptacles.
According to a Tim Hortons spokeswoman, the company is working with restaurant owners and local waste-management providers to expand recycling and composting.
"We plan to bring our successful Cup-to-Tray recycling program to British Columbia after launching it last year in Nova Scotia," said manager of public affairs Alexandra Cygal in an email. "The Cup-to-Tray program recycles our hot beverage cups into take-out trays and has been tested in seven Tim Hortons restaurants in Vernon. With this test nearing completion, we are hoping to expand the program into other areas, including Victoria."
The Capital Regional District will recycle paper-only cups through the Blue Box Program, but Tim Hortons cups have a polyethylene liner, the company says.
Passersby on Wednesday could guess the number of cups in the installation for a chance to win a Tim Hortons gift card. They were also invited to sign a petition calling for in-store recycling facilities, which is also available online at change.org/recycletherim.
"Ultimately, we'd be thrilled if it really [results in] some actual change in practices," Hull said.
"We know Tim Hortons is looking to be a little greener, but we really want them to speed it up."
asmart@timescolonist.com
We thought you might also be interested in..