Victoria council to examine pay, with an eye to cutting costs
Jul 05 2012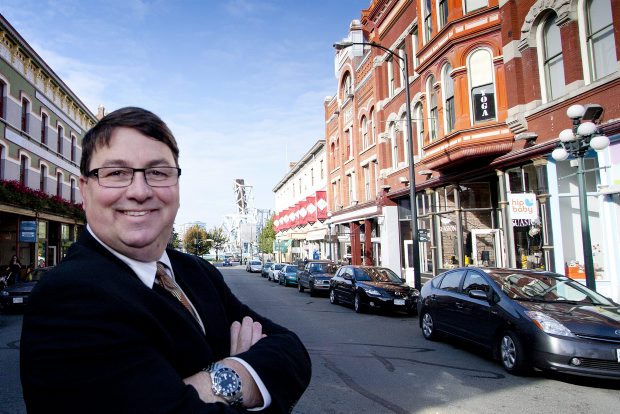 Bruce Carter, of the Greater Victoria Chamber of Commerce: "I think those salaries are inflated."
Photograph by:
Adrian Lam , timescolonist.com (June 2012)
Victoria councillors will be briefed today on city staff salary and benefit packages in a closeddoor session.
The briefing comes in the wake of the latest public bodies reports showing Victoria's senior staff leading the pack in compensation packages paid to local government officials in the Capital Regional District.
Victoria councillors stressed the in-camera briefing is to clarify what is included in the compensation packages. No decisions are expected.
However, several councillors said public interest in the salary packages is high. And, with city council trying to slash $6 million from operations over the next three years, they are keenly interested in getting more details of management compensation packages with an eye to cutting costs.
"Yes, I think something needs to be done," said Coun. Lisa Helps, adding that the appropriate route would not be trying to roll back existing contracts but rather reviewing policies on how wages and increases for exempt, or nonunion, employees are calculated.
Victoria councillors have frozen their own salaries this year and have cancelled catering services, opting instead to pack bagged lunches in order to cut costs.
The public bodies report shows that eight of the top 10 compensation packages for municipal officials within the Capital Regional District are paid to City of Victoria employees.
City Manager Gail Stephens topped the list with a compensation package of $231,452; Peter Sparanese, city general manager operations, $227,258; city solicitor Tom Zworski, $196,605; Rob Woodland, director of legislative and regulatory services, $180,400; Deb Day, director of planning, $178,333; Kate Friars, director of parks and recreation, $176,332; Wael Fanous, auditor risk manager, $175,682; and Brenda Warner, director of finance, $171,464.
As a rule, Victoria department heads make more than their counterparts in neighbouring municipalities.
Victoria has 225 employees (excluding police) making more than $75,000 a year, for a total of $21.3 million. Total compensation costs for all employees is $52.8 million.
Exempt staff compensation increases are based on the negotiated settlements received by the fire, police and CUPE unions. The 77 exempt staff also have an option of taking one week of holiday or a two per cent increase.
Coun. Shellie Gudgeon, who called the city's senior salaries "extravagant," said the salary bump option was "crazy."
"We have to change the culture at the City of Victoria - not entirely, but the culture has to be worked on," she said.
Coun. Ben Isitt said that council should be looking at moving away from percentage increases for exempt staff that are tied to union increases.
"I think they're too high and I think we can alter the terms of the employment contracts as they come up for renewal and as vacancies arise," Isitt said.
"I think that we should do that fairly aggressively. I don't think we should open up any existing contracts because many are for a set term, but I certainly wouldn't support renewing any contracts at the existing terms."
Greater Victoria Chamber of Commerce CEO Bruce Carter said there should be a marketplace evaluation of the city's senior salaries.
"I get that the City of Victoria is a difficult place, but I think those salaries are inflated compared to what you could get in the marketplace," Carter said.
Also of concern, he said, is "the bulge at the top."
"Normally, there's a significant gap between the top wage earner and the next person," he said.
bcleverley@timescolonist.com
We thought you might also be interested in..