Food carts on councillors' menu
Jul 06 2012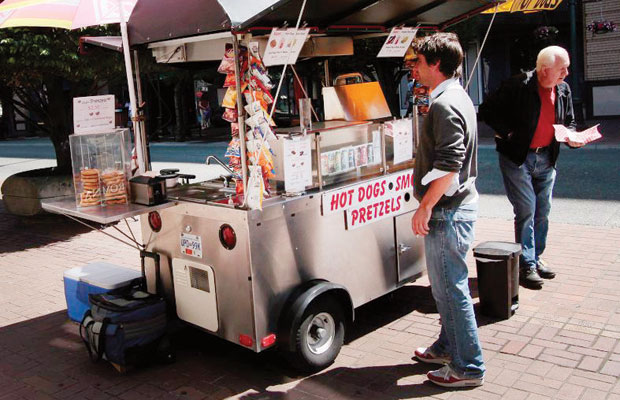 A food cart on Government Street is one of the few now permitted to operate in Victoria.
Photograph by:
Lyle Stafford , timescolonist.com (July 2012)
Jonesing for a pineapplemango smoothie or some authentic Thai street food? How about a Korean-Mexican fusion lunch taco?
If Victoria councillors Lisa Helps and Marianne Alto have their way, your downtown quick food options could be expanding by next summer.
The two are hoping to bring a proposal to develop a pilot program for a new food-cart policy to council for consideration later this summer.
"It will be very general, asking staff what bylaws have to be changed in order to allow street vending on public property," Helps said. "The idea is to do a pilot program in 2013."
Current city policy prohibits food vendors - with the exception of a couple of grandfathered carts on Government Street - from operating on public property. That limits most existing food carts to private parking lots.
Helps hopes a recent review of Vancouver food-cart policies can be built upon here.
She said the pilot would look at a variety of issues, such as the number of carts that should be allowed and where, what percentage would be from already established bricks-and-mortar restaurants and what rights those restaurants would have to sell certain types of food, mobility of the carts and licensing fees.
"There are some restaurants in town that have expressed the desire to have food carts, and we wouldn't want to exclude them," Helps said. "In fact, it's a really important part to me that we find a balance between the needs of established restaurants and the needs of entrepreneurial start ups."
The number of food carts in Vancouver has steadily increased to 103 since the program started in 2008.
New carts added this spring offer food from countries such as Ukraine, El Salvador, Thailand and India.
Vendors pay $1,000 for a licence, and the city plans to allow another 30 carts to be added in the next two years.
Helps said revenue is a factor and any pilot would have to look at adequate compensation to the public purse.
"Something that's really important to me is that public space is public space," she said. "I don't see the city taking on anything new - and food carts is something that is arguably new - that doesn't generate revenue for the city."
A food-cart trial is generally supported by the Downtown Victoria Business Association, said chairwoman Fran Hobbis.
"We're certainly interested in anything that could increase pedestrian traffic downtown," Hobbis said.
"There is certainly plenty of evidence that suggests unique food carts add vibrancy and appeal to a downtown area."
However, she said, the association's primary interest is with its members.
"Our concerns are around ensuring there is no unfair competition with the food establishments that are in the downtown," she said.
Helps hopes to have something before council for consideration on Aug. 23.
bcleverley@timescolonist.com
We thought you might also be interested in..