Esquimalt to battle policing decision
Jul 06 2012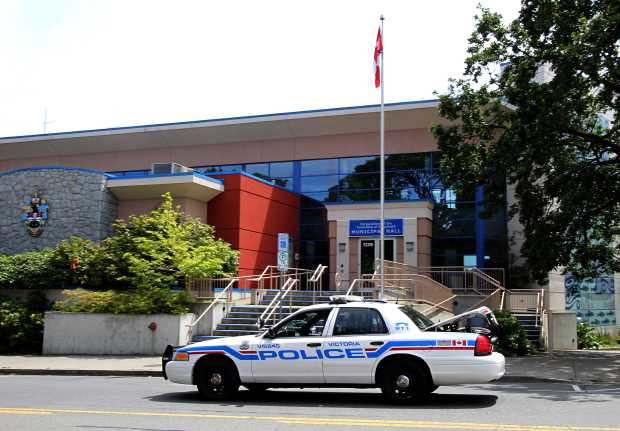 Esquimalt's municipal hall.
Photograph by:
Victoria Times Colonist , July 2012
An Esquimalt councillor is threatening to quit in response to the township's decision to pick a legal fight with the province over its policing future.

At a closed-door meeting Wednesday, Esquimalt council decided to hire a lawyer to see if it must obey a B.C. justice minister order to maintain its contract with the Victoria Police Department. Mayor Barb Desjardins announced the decision on Thursday.

Councillor David Hodgins said Thursday he was frustrated at Esquimalt council's willingness to make behind-closed-doors decisions that would end up costing taxpayers more money. Hodgins walked out of the meeting Wednesday night to protest the decision being made without consulting the public.

Desjardins said she was just practising due diligence by seeking a legal opinion on Justice Minister Shirley Bond's ability to force a police department on a municipality.

"Under the community charter, there are recognized areas which clearly state the province and municipalities will respect each others' rights with respect to choosing and delivering services," Desjardins said. "Under those rights, is policing services one of those?"

Esquimalt's decision to seek a legal opinion was dismissed by Bond, who said she has already explained to city staff that she has the final say on policing in municipalities.

Last week, Bond endorsed an independent mediator's report that rejected Esquimalt's bid to contract out with the RCMP, and ruled the community of 17,000 must work out its differences with Victoria. Esquimalt has long complained of steadily rising policing costs since the forced merger with the Victoria department in 2003.

Esquimalt has so far spent $300,000 on the process of finding another police department.

Desjardins did not have an estimate for how much it would cost to hire a lawyer.

Hodgins said he has been told by Esquimalt citizens that people want to fix the relationship with Victoria police and move on.

"I didn't get a sense from anyone they wanted to put more money on the table," he said.

Hodgins said he would consider stepping down if he continued to be the "lone voice in the wilderness" on council.

Administrative lawyer John Alexander said the Police Act gives the justice minister broad powers to ensure all municipalities have adequate and effective policing models.

For example, the province has the power to force the region's police departments to amalgamate into a single force if it is in the best interest of public safety.

Bond said in a statement she understood the disappointment felt by Esquimalt's mayor and council.

"We appreciate the concerns being expressed and, in fact, after the mayor raised the application of the community charter with us, we looked carefully at her questions and explained the outcomes of that work with her staff prior to the decision being made public."

Bond said she wants the focus to be on ensuring the mediator's 43 recommendations are acted upon. The report outlined several areas where Victoria police and its board need to do a better job making Esquimalt an equal partner and giving it an avenue for dispute resolution and cost control.

Desjardins said the mediator's report will be open for public discussion at Monday night's council meeting.

kderosa@timescolonist.com

We thought you might also be interested in..