How a bark could save your life if Island is hit by major quake
Jul 07 2012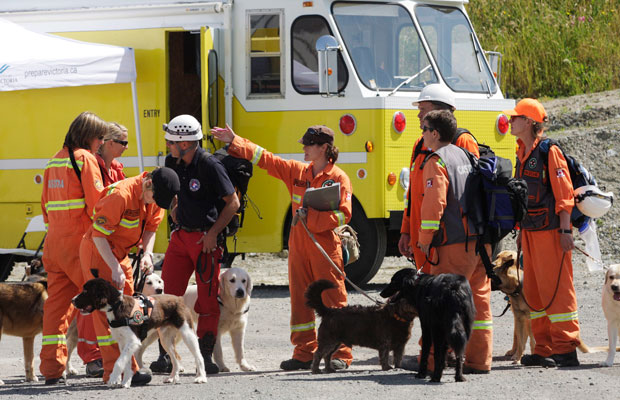 Members of Canadian Search and Disaster Dogs Association check a building during an earthquake simulation on Friday. The three-day search-and-rescue exercise is the first the group has held in Victoria.
Photograph by:
Lyle Stafford, Victoria Times Colonist , July 6, 2012
"Go search!" Krista Drake calls out to Wrangler, propelling the English springer spaniel into an abandoned building.
The dog's collar illuminates the dark room, where he finds a victim - in this case, a volunteer in an earthquake simulation exercise being staged across Victoria this weekend.
Decked out in orange jumpsuits and hard hats, members of the Canadian Search and Disaster Dogs Association will follow their canine partners' instructions - they detect human scent, then alert team members by barking - to find the volunteers.
Silvie Montier, founding member of the group and leader of the exercise, said it was the first time the organization has held an emergency simulation in Victoria.
"We thought Victoria was really appropriate because, obviously, it's on a fault line," Montier said.
There is a one in three chance of a damaging earthquake in Victoria in the next 50 years, said Robert Johns, emergency co-ordinator for the City of Victoria.
"It's a relatively high probability, so we take it fairly seriously," Johns said.
Victoria's urban search-and-rescue teams are taking part in the simulation. If there were a large earthquake, Johns said, there would be a need for collaboration with outside organizations such as the dog group.
The exercise provides good practice for both the canines and the humans.
Karen Somerville came with Juno, a border colliegolden retriever mix certified with the International Rescue Dog Organization, a partner with the United Nations, from Cochrane, Alta. She will lead one of 28 K-9 teams, most of which include three dogs and three people.
Five locations in Victoria and Saanich are being used, but details are being kept secret to make it more realistic for the searchers taking part.
In fact, the dog group's members were only notified Thursday that the simulation was in Victoria, giving participants from across B.C. and Alberta just one day to get to the city for the start of the three-day exercise.
Also taking part are the United States' Federal Emergency Management Agency and the Slovenian national rescue team, which Montier met while training in Croatia earlier this year.
Collaboration is the most important factor in the simulation, Montier said.
"If you don't cross-train, meaning train with other teams, your learning stops very fast - there's only so much you know," Montier said.
The simulation is running until Sunday.
mkaralis@timescolonist.com
We thought you might also be interested in..
Notice
: Undefined index: event in
/home/viccity/public_html/v2/content.php
on line
67