Barriers being installed at Beacon Hill Park to limit motor traffic
Jul 07 2012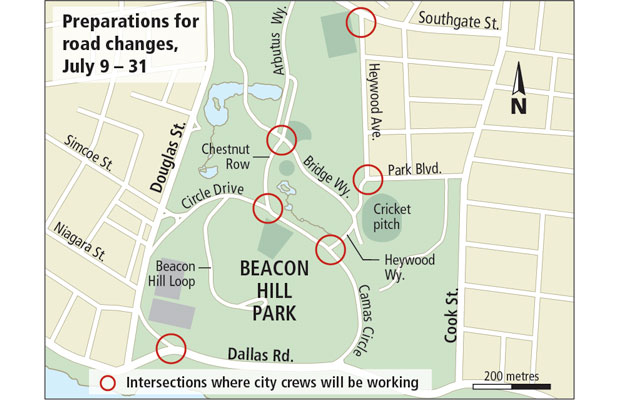 Motor vehicles will be blocked from some routes at Beacon Hill Park
Photograph by:
Victoria Times Colonist , July 2012
City of Victoria crews will begin converting several Beacon Hill Park roads into temporary pedestrian and cycling pathways on Monday, creating minor traffic delays for motorists.

The month-long process will focus on the intersections of Bridge Way and Chestnut Road; Chestnut Road and Circle Drive; Circle Drive and Dallas Road; and at both ends of Heywood Avenue, between Bridge Way and Circle Drive.

When the work is completed at the end of July, the city will launch a three-month pilot project that will change the direction of traffic on some roads and transform others into multi-use trails.

The changes are an effort to reduce vehicle traffic in the park and address issues such as speeding, drivers using the park as a shortcut, and nearby office workers using internal park roads for free daytime parking.

Portions of Heywood Avenue and Bridge Way will be dedicated to cyclists and pedestrians.

Both will be part of a proposed connection to the Trans Canada Trail.

Motorists will be able enter the park at Arbutus Way off Superior Street, and at Circle Drive off Douglas Street. Two entrances and exits off Park Boulevard will also remain open.

Arbutus Way will be maintained as a one-way access for vehicle use, but parallel parking will be limited.

Chestnut Road will become a one-way southbound route for motorists. From there, drivers can head east or west on Circle Drive to exit the park.

The westbound lane of Circle Drive, coming into the park from Dallas Road and stretching to Chestnut Road, will be dedicated to pedestrians and cyclists.

During the pilot, the community can give feedback at an information booth in the park.

For more information, including a map of the changes, go to victoria.ca..

We thought you might also be interested in..