Saanich's Tseycum First Nation alleviating housing shortage, reclaiming Patricia Bay shoreline
Jul 08 2012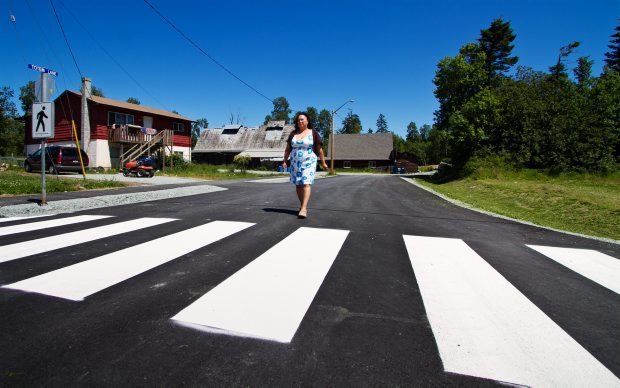 Tseycum First Nation Chief Tanya Jones walks on freshly paved Totem Lane, which branches off West Saanich Road and leads into the reserve.
Photograph by:
Darren Stone , timescolonist.com (July 2012)
The need for housing has trumped the need for more graveyard space on a tiny Saanich Peninsula First Nations reserve.
Tseycum First Nation, with a chronic shortage of housing and only 29 hectares of reserve land, has struggled for years to figure out how to make room for the remains of ancestors housed in museums around the world and buried under West Saanich Road.
But community members and elders have told the chief and council that housing must come first, and federal approval has now been given for a 17-lot subdivision at the end of Totem Lane in North Saanich, said Chief Tanya Jones.
"We were told housing is a priority," Jones said. "We are always looking to repatriate remains, but we're trying to keep everything in the community stable and balanced."
Under former chief Vern Jacks, the remains of 55 ancestors, some dating back 2,000 years, were repatriated from the American Museum of Natural History in New York in 2008 and efforts have been made to reclaim remains from museums in other countries. At that time, Jacks said the band was being forced to use potential housing land as burial sites.
Jones said all band members hope that more land will be added to the reserve eventually, but, for now, everyone is excited about the prospect of more housing.
"We have a waiting list of over 25 families now," she said. "These are people who want to move home."
There are currently 30 homes housing 154 people on the reserve.
The band is applying for grants and it is hoped that some units can be dedicated to supported seniors housing, Jones said.
Meanwhile, the community has already undergone a transformation as the road leading into the reserve has been paved in a $1-million project funded by Aboriginal Affairs and Northern Development Canada.
The road was a rutted and potholed gravel lane that coated the community with dust in summer and mud in winter.
"We have been asking for this for years. Oh my goodness, there's so much more activity now," Jones said.
"When the band office closes, the young parents bring out hockey equipment and roller blades and you see families engaged in community activities," she said.
In addition, houses and vehicles are remaining cleaner and people are able to open their windows so the air quality in homes is better, Jones said.
"We've even got sidewalks all through the community," she said.
jlavoie@timescolonist.com
We thought you might also be interested in..
Notice
: Undefined index: event in
/home/viccity/public_html/v2/content.php
on line
67