Good neighbours: 1,000 books in five years is child's play
Jul 08 2012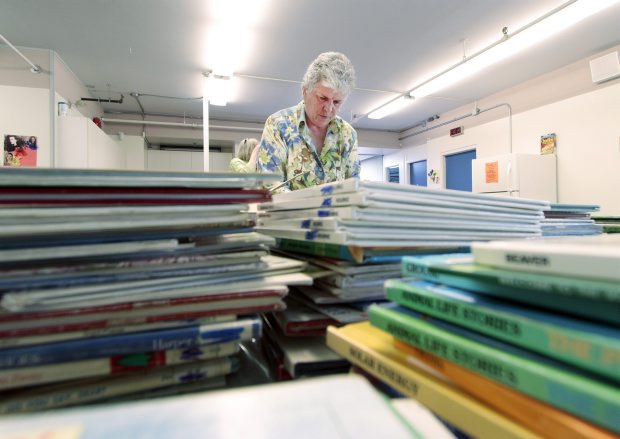 Lorraine Borstad sorts books at the Saanichton Lsarning Centre for the 1000 x 5 Children's Book Recycling Project.
Photograph by:
Lyle Stafford , timescolonist.com (July 2012)
D o the math: 1,000 books over the first five years of life adds up to huge benefits for children.
That's the basic idea behind a child and family literacy program called 1000 x 5. Give a child the chance to have 1,000 stories read to him or her by age five, and the chances of success in school rise considerably.
The 1000 x 5 Children's Book Recycling Project was created in 2008 by Daphne Macnaughton, a member of Peninsula Connections for Early Childhood. It focused on the development of literacy within the Saanich school district. The Saanich group has given out more than 50,000 picture books, valued at about $500,000, and is still going strong.
The program has started up in the Greater Victoria school district, where it has been a big success, and will begin operation in the Sooke district in September.
Macnaughton pointed out that the 1,000-books-by-agefive theme does not even translate to a book a night, so it is a very attainable goal.
She said the program functions on "gently used" children's books donated by the community. Volunteers sort and bag the books for distribution.
The effort includes Books for Babies kits, which are given out through public-health nurses.
"When nurses make their first postnatal visit to moms, they give a package that has beautiful things in it," Macnaughton said. "There are two books for the mom and two for the babies, a little 'Read to Me' bib, and information about the local community and resources."
The books from the program go to all children, although many find their way to families in need through the Sidney Lions Food Bank or other sites.
Books are also distributed to elementary schools with StrongStart early-learning centres.
While there are many people and groups to acknowledge for the program's good results, Macnaughton said particular thanks go to Beacon Community Services, the Saanich school district, Success By 6, the United Way of Greater Victoria, the Victoria Foundation and the Times Colonist RaiseaReader campaign.
A dedicated band of helpers recently completed their final "book-bagging bee" of the school year before taking time off for the summer. The program has definite benefits for area schools, said Macnaughton, who spent 37 years working in the public education system
"It's in the school district's best interest to have kids having had 1,000 books read to them before they ever come to school."
She said she encountered students during her career who started at school without ever having had a single book read to them. "It's sort of like showing up at a book-club meeting and you haven't read the book."
Donated books are always welcome, Macnaughton said. Books can be dropped off at any Saanich district school, the Saanich school district office or the Peninsula Co-op Food Centre. Label bags or boxes with "PCEC 1000 x 5, Saanichton Learning Centre."
Contact Macnaughton at dlmvictoria@shaw.ca
SOCCER TOURNEY FUNDS A DREAM
Members of the Victoria Dreams street soccer team are lining up for a July 15 community tournament to help one of their own get to the Homeless World Cup in Mexico.
The player travelling to Mexico for the October event has yet to be selected. Richard Clemens was the local representative last year, playing for Canada when the Homeless World Cup was held in Paris.
The team's fundraising tourney, dubbed Dreams in Mexico, will feature fouron-four coed soccer action at the Finlayson Park turf field. Rosters can have up to eight people, and registration is a minimum donation of $100 per team.
Just like the team's inaugural tournament in 2011, games will be on small fields with hockey-style nets. Players must be at least 12 years old.
Also part of the event will be a barbecue put on by Fat Daddy's, massage by Absolute Therapy, music and raffle prizes.
Last year's tournament champions, the Fernwood Dragons, will be back. The tournament will also feature two team from the Vancouver Street Soccer League.
The Victoria Dreams was established to bring together people with various challenges in their lives. It is one of a number of teams across Canada and in many other countries. Go to victoriastreetsoccer.com, find Victoria Street Soc-cer on Facebook or email victoriastreetsoccer@ gmail.com.
GOLFERS ON TEE TO HELP FAMILIES
Victoria Golf Club's annual women's charity golf tournament has been going strong for 17 years, thanks to the efforts of volunteers and support from club members and their businesses.
For the past 11 years, the tournament has been dedicated to the Victoria Women's Transition House.
This year, a men's tournament and an evening gala were also included, said Catherine Langpap, who led sponsorship efforts.
The overall fundraising total from the three June events was close to $125,000. More than $100,000 was raised in 2011.
Langpap said "100 per cent volunteer commitment" from members is a key to the tournament's success.
"The other part is a huge amount of volunteer commitment from the Victoria Golf Club staff and also from Transition House."
Transition House is an important cause that deserves support, Langpap said. "It's for families in crisis."
The tournament has secured Bayview Place as a title sponsor.
LIONS PREPARE FOR DROP ZONE
Fresh from another successful edition of the 24-Hour Relay for the Kids, the B.C. Lions Society is preparing for its next big event - the Easter Seal Drop Zone on Sept. 13.
Like the relay, the Drop Zone raises money to send children with disabilities to Easter Seals Camp Shawnigan. It also supports Easter Seal House, a facility for children with disabilities who travel to Victoria for medical treatment.
The Drop Zone, now in its seventh year in Victoria, provides people with an opportunity to rappel down the 13-storey CIBC building in downtown Victoria. The challenge for each participant is to raise a minimum of $1,000.
The Victoria event is one of 15 being held across the country from July to September, with superhero garb a common sight among the rappelers.
More than 3,000 people have taken part in Drop Zones across the country since 2005, and have raised more than $4.79 million.
For registration details and more information, go to thedropzone.ca or call 250-370-0518.
ROTARIANS RECOGNIZED
The Rotary Club of Oak Bay has been singled out for a special honour marking its international service.
The Oak Bay group was chosen from among the 88 clubs in Rotary's District 5020, which includes Vancouver Island and the western part of Washington state, for the Floyd Olson International Club of the Year Award. The recognition, presented during a recent district conference held in Victoria, acknowledged five successful international projects run by Oak Bay members.
The projects provided dental and nutritional service in Guatemala, gave instruction on producing and selling clay stoves in Rwanda, oversaw construction of toilet and washing facilities in Mexico, helped with making toilets and septic tanks in India, and contributed to a water-supply project in Malawi.
jwbell@timescolonist.com
We thought you might also be interested in..
Notice
: Undefined index: event in
/home/viccity/public_html/v2/content.php
on line
67