Chief Robert Sam, who guided Songhees for 4 decades, dies at age 76
Jul 10 2012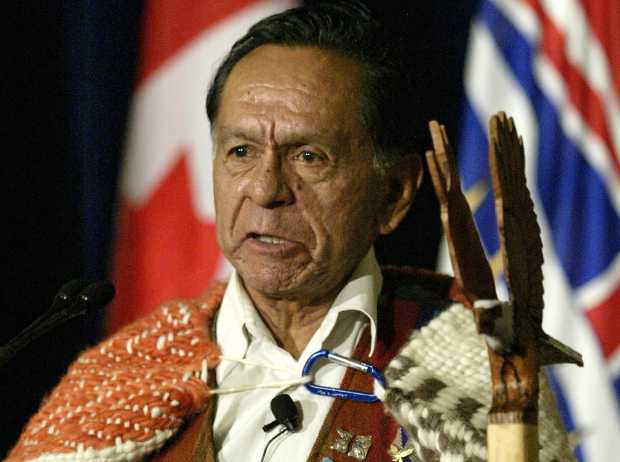 Chief Robert Sam of the Songhees First Nation speaks at a settlement agreement ceremony at the B.C. legislature in November 2005.
Photograph by:
Victoria Times Colonist , Nov. 18, 2005
The man who helped guide Songhees First Nation for four decades died Monday at the age of 76, surrounded by family and community members.

Chief Robert Sam, who served as elected chief from 1996 until this week and who began his political career as a band councillor in 1969, died in Victoria General Hospital from complications following a stroke.

Sam, who was recently awarded the Diamond Jubilee Medal, was dedicated to ensuring his community moved forward and could not be ignored, said his nephew Ron Sam, a council member.

"I got to learn a lot from him. He always wanted to establish our place. In his words, for far too long we were invisible. He always wanted people to know that Songhees was still here and moving forward," Ron Sam said.

As lead negotiator for Songhees, Sam played a key role in negotiations with the federal government, bringing Songhees to stage four of the treaty process. He was also passionate about protecting the Douglas Treaties, his nephew said.

Sam was a member of the Association of First Nation Chiefs Committee on Treaties, a founding member of the First Nations Finance Authority and a Greater Victoria Harbour Authority board member.

Under Sam's leadership, Songhees developed bylaws on property taxation, land management and fire protection and negotiated community education agreements with Greater Victoria School District and Camosun College.

Sam was a strong advocate for First Nations artists and was instrumental in establishing an area on the Inner Harbour causeway reserved exclusively for First Nations artists.

Sam was born and raised on Songhees lands, and passed on his strong interest in cultural heritage to young people in the community by promoting cultural activities such as the Songhees Canoe Club.

"He was humble and easygoing and straightforward with a good sense of humour," said Ron Sam. "It's going to be tough to lose him."

The community is struggling with the loss, he said.

A statement from the First Nation said: "The Songhees Nation will dearly miss the leadership of Chief Robert Sam and will honour his memory as we strive for sovereignty, self-determination and socio-economic growth."

Hereditary Chief Andy Thomas of neighbouring Esquimalt First Nation said Sam was one of the great leaders.

"He was a good man to work with," he said.

"We created a working relationship that future generations can take care of, too. He left a legacy for his people."

Flags at Esquimalt and Victoria city halls flew at half-staff and Esquimalt Mayor Barb Desjardins paid tribute at Monday's council meeting, praising Sam for his sharp sense of humour and dedication to his people.

"He scared the heck out of me, but his humour was unbelievably dry and wonderful," Desjardins said.

Esquimalt-Royal Roads MLA Maurine Karagianis and NDP leader Adrian Dix expressed gratitude to Sam for his many years of service.

"May the legacy of his remarkable spirit and generous contribution to his people and to our community live on gloriously and make a difference for many others in the years to come," Karagianis and Dix said in a statement.

A traditional prayer service for Sam will be held at 7 p.m.

Saturday at the Songhees Nation Longhouse, located at 6 Maplebank Rd.

A memorial service will be held the following day at the longhouse at 9:30 a.m.

jlavoie@timescolonist.com

— With files from Louise Dickson and Katie DeRosa

We thought you might also be interested in..