Rock the Shores concert could create massive West Shore gridlock
Jul 10 2012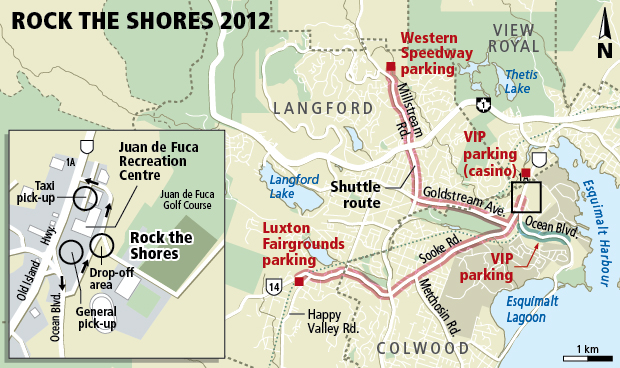 Traffic could be affected at the Rock the Shores concert
Photograph by:
Staff , timescolonist.com
West Shore and up-Island commuters could be tragically stuck in traffic Friday as thousands of Tragically Hip concertgoers heading to Juan de Fuca Recreation Centre join the afternoon rush to get out of town.
Rock the Shores 2012 - the sold-out outdoor concert featuring the Tragically Hip, Sam Roberts Band and others - kicks off at 4 p.m.
Friday, meaning more than 12,000 music lovers will try to share the already stressed western roadways with weary commuters.
"It's not going to be pretty," conceded West Shore RCMP Sgt. Max Fossum. He suggested some concertgoers might want leave downtown Victoria as early as 10 or 11 a.m. "I guess what we're hoping is a lot of people take the bus or ride their bikes," he said.
Rock the Shores 2012 - to be held on Juan de Fuca's lower sports fields - is the first major event of its kind to be held at the facility, Colwood Mayor Carol Hamilton said Monday. As such, it will be a learning exercise. "It's going to be the first time we've had anything of that magnitude at the facility, so just like anything there's going to be some growing pains with it," Hamilton said.
Traffic planners say Friday traffic, as a rule, is heavier than other days of the week. But Juan de Fuca administrator Linda Barnes said that's not true of the West Shore rush hour. "Luckily, Friday afternoons, believe it or not, is fairly light traffic comparatively in this area so that's one of the considerations of any time to do the concert," Barnes said.
While concert gates don't open until 4 p.m., organizers expect people to be lining up hours earlier, Barnes said. "So people will be making their way here over the daytime. And we've promoted the secure bike parking."
But there won't be much additional B.C. Transit bus service. Concert organizers - Atomique Productions - opted not to contribute to the cost of additional service, said B.C. Transit spokeswoman Meribeth Burton.
"We're not in the charter business and other for-profit events including VIC-Fest have come up with reciprocal arrangements so that B.C. Transit isn't eating all the costs of what is essentially providing a charter to a for-profit event," Burton said.
One thousand free transit passes were handed out at the recent VIC-Fest at St. Ann's Academy, of which 400 were used. VIC-Fest organizers then reimbursed Transit $2.50 for each bus ticket used. "It didn't cover our costs but at least we felt we had a partnership," Burton said.
Transit met with Rock the Shores 2012 organizers, but they were not interested in spending the estimated $11,000 to $12,000 to cover some of the costs of additional bus service, Burton said. Still, B.C. Transit will add three late buses on Route 50 from 11 p.m. to 1 a.m., Burton said.
In an email, event producer Nick Blasko said traffic management has been a priority. "If there are lingering concerns on their side as to whether the plan is sufficient, we encourage them to make them known and we will work with them to adjust things accordingly," he said.
"We have been working with West Shore Parks and Rec, local RCMP, as well as a dedicated traffic consultant for over a month now."
Parking is limited at the recreation centre, so parking is being provided (for a $10 cash fee) at Western Speedway and the Luxton fairgrounds beginning at 2 p.m. with shuttle buses to and from the concert.
bcleverley@timescolonist.com
We thought you might also be interested in..
Notice
: Undefined index: event in
/home/viccity/public_html/v2/content.php
on line
67