VIHA: Ban smoking on beaches, in parks
Jul 11 2012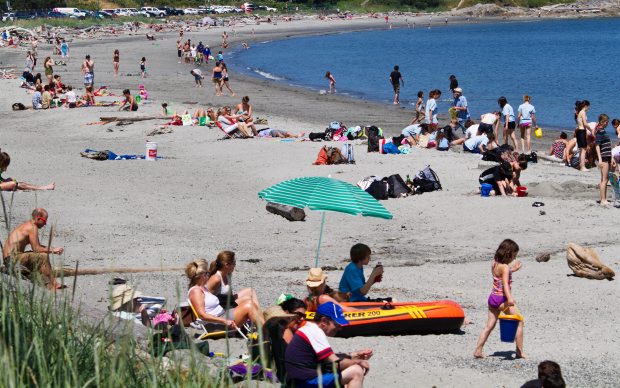 Willows Beach would be a no-smoking zone if Vancouver Island Health Authority gets its way.
Photograph by:
Darren Stone , timescolonist.com (July 2012)
Vancouver Island's chief medical health officer is asking local governments to strengthen their tobacco control bylaws by banning smoking on beaches and in parks, expanding no-smoking zones around doors and windows and even preventing the sale of hookah pipes.
"It's a consultation rather than going out with a proposed menu of legislation," Richard Stanwick said Tuesday. "It's an exercise to gauge the level of interest."
The Vancouver Island Health Authority began canvassing Island municipalities this spring on their appetite for expanding bylaws or initiatives to reduce the harmful effects of secondhand smoke.
The province's Tobacco Control Act came into effect in 2008 and prohibits smoking within three metres of doorways, open windows and air intakes. A Capital Regional District clean-air bylaw goes beyond that and does not allow smoking on outdoor patios where food and beverages are consumed.
Smoking rates are the lowest on the south Island, at 12 per cent, and 16 per cent on the rest of the Island. "Nonetheless, tobacco remains the leading preventable cause of premature death in Canada," says a letter sent by VIHA to municipalities in April.
Among VIHA's suggestions :
- Prohibit smoking in public spaces such as beaches, parks, playgrounds and sports fields.
- Expand the three-metre
no-smoking zone around doorways, open windows and air intakes to seven metres.
- Expand the smoking ban
to outdoor patios, transit stops and transit lineups (not just shelters).
- Prevent the sale and public use of hookah pipes within local government jurisdictions. (At least four shops offering hookah-pipe smoking in Victoria have opened in the last year, Stanwick said.)
Since the letter went out, Sidney council has expressed interest in banning smoking on beaches, Duncan has said it wants a presentation and Stanwick recently gave a presentation on the issue to Colwood council, he said.
Sidney Mayor Larry Cross said he doesn't think of his council as a leader on the issue of banning smoking on beaches and in parks, as many communities are ahead of Vancouver Island.
"I think it's clearly a health issue and so regulations to keep the public safe are very important," Cross said. "But we also believe it has to be region-wide."
The letter says a consistent Island-wide policy about where smoking is not permitted would be valuable.
Smoking policies vary throughout the Island.
Nanaimo rolled out its new smoking ban last year in October, prohibiting people from lighting up in recreational spaces like city parks, beaches and plazas.
However, it doesn't ban smoking on commercial patios.
Meanwhile, communities like Parksville, Lantzville and Ladysmith do not have rules preventing smoking in public places.
Last month, Nanaimo councillors said the city is already ahead of the game with its anti-smoking zones, but may consider VIHA's more stringent suggestions.
"I'm not sure if [further regulation] is a top priority - but certainly we can take a look at this," Coun. Jim Kipp said. "This is an issue of health and, personally, I think we are affecting people in a positive way with these kinds of limitations."
If feedback from municipalities is positive, Stanwick said a proposal for a blanket amendment to the CRD's clean-air bylaw could be brought forward in the fall or winter, after consultation.
If it is passed, changes could be implemented in the new year after the development of an extensive education program, Stanwick said.
VIHA also wants a provincial directive prohibiting smoking on the grounds of health-care facilities included in the cleanair bylaw, Stanwick said.
charnett@timescolonist.com
We thought you might also be interested in..
Notice
: Undefined index: event in
/home/viccity/public_html/v2/content.php
on line
67