Wolf on Discovery Island expected to swim back to shore
Jul 12 2012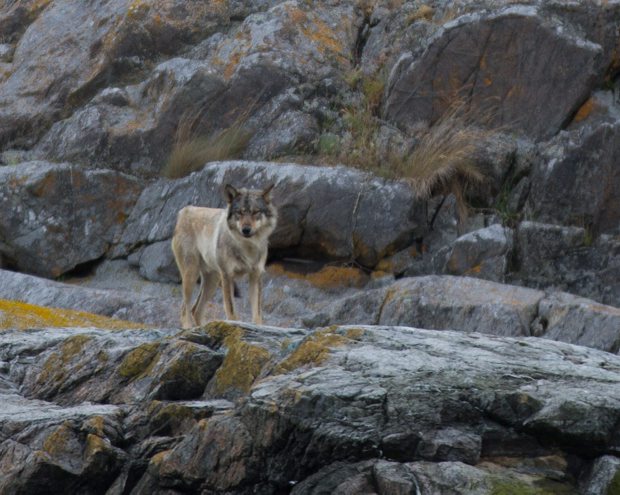 A coastal wolf, spotted on Discovery Island off Oak Bay, is not displaying any aggressive behaviour, authorities say.
Photograph by:
Submitted photo , Jim Zakreski
A coastal wolf spotted on Discovery Island will likely swim to shore before it is trapped, a conservation officer says.

"The most likely scenario is that it's going to leave the island on its own, because it's going to run out of water soon," said conservation officer Peter Pauwels. "So there's a very good chance we will never trap this animal."

Conservation officers set up a bait station this week for the wolf, which was first reported in May and likely swam to the island. If it becomes accustomed to the site, which is outfitted with dog food and water, they will prepare a live trap.

"It wasn't until last week that we got a photograph that confirmed in our minds that there was a wolf there, as opposed to just a dog," Pauwels said. "So it's only been in the last week that we've been considering what we can do, if anything, to get it off there."

Jim Zakreski, who took the photo while leading a whale-watching tour, described the wolf as "really inquisitive-looking — not threatening or trying to hide."

It was about 100 metres from the shore and walked in and out of the bushes before venturing closer, he said.

"He came down to the shoreline, sat on his haunches and just kind of studied us," said the guide for B.C. Whale Tours. "Then he kind of satisfied his curiosity after about 15 minutes and walked back into the bush and up on a beautiful rock, nestled in amongst the pines."

Accumulated rainfall has allowed the wolf to survive on Discovery Island, Pauwels said, but that freshwater is now drying up. If the animal leaves on its own, it may swim to nearby Ten Mile Point, Cattle Point or Oak Bay.

"You'd think it would go to the closest point of land, but maybe not," he said. "It may know it's too busy there."

If the bait station and live trap are successful, conservation officers will consult with biologists to find the most appropriate place to release the animal.

In the meantime, campers on Discovery Island should avoid leaving food out and report any wolf sightings to the Conservation Officer Service at 1-877-952-7277.

"The animal has not been displaying any aggressive behaviour," Pauwels said. "People just need to be aware that if they go over there, they might see it."

asmart@timescolonist.com


We thought you might also be interested in..
Notice
: Undefined index: event in
/home/viccity/public_html/v2/content.php
on line
67