Seniors advocacy association urges transparency in care-home tender
Jul 12 2012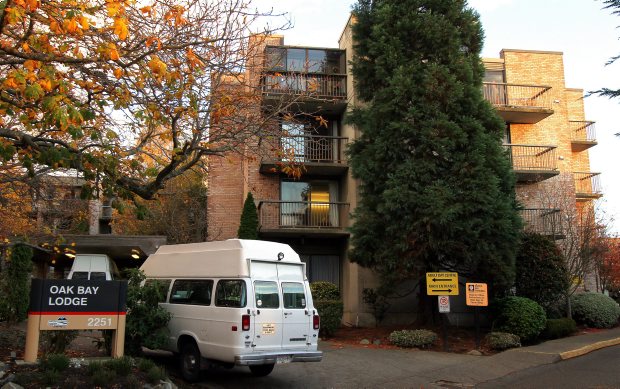 Now that plans for a new facility on the site of the Oak Bay Lodge have been shot down, it could be at least two months before the Vancouver Island Health Authority requests new proposals.
Photograph by:
Bruce Stotesbury , timescolonist.com (July 2012)
A seniors advocacy group says the Vancouver Island Health Authority unfairly awarded a contract to replace aging residential care beds in Greater Victoria, and is urging it to use a third party as it puts the project to tender again.
The B.C. Care Providers Association says the plan to build 580 new and replacement beds at facilities that included Oak Bay Lodge was drastically different from the original contract put out to tender in 2009.
VIHA originally planned to replace 325 to 400 beds at Oak Bay Lodge and Mount Tolmie Hospital, but later worked out an agreement with Baptist Housing, which was awarded the contract, to build a total of 580 beds at four sites, said health authority spokeswoman Shannon Marshall.
A breakdown of units at the four sites was not available on Wednesday, but officials said there were also plans to replace beds at two Baptist Housing facilities: Mount Edwards Court on Vancouver Street and at Central Care Home on Johnson Street.
The revised agreement also involved the Capital Regional Hospital District, which entered into a three way partnership with VIHA and Baptist Housing, agreeing to spend up to $40 million to improve care-bed facilities in the region.
The deal also included future development of a residential-care complex at the hospital district's Mount View Heights site in Saanich.
Ed Helfrick, chief executive officer at the Care Providers Association, said at least three of the association's members appealed the decision because the final agreement was so different from the original request for proposal.
"We asked for details about those changes, but they weren't prepared to release any documents until all the details of the project had been finalized," Helfrick said.
Now that the plans for the new 320-bed, $80-million Oak Bay Lodge facility on Cadboro Bay Road have been shot down by Oak Bay council, Helfrick urged VIHA to use a third party to ensure fairness in the new tender process.
Helfrick said the region is desperate for beds that meet provincial regulations and urged the health authority to tender the project as quickly as possible.
"This project has dragged on for more than four years, which is not the average length of time for a competitive tender," he said. "Everyone is waiting for replacement beds."
VIHA officials say it could be at least two months before they request new proposals.
Both sites need to be retendered, said the health authority, and "we need to ensure that the new request for proposals is fully developed before putting it out to public tender."
With the Oak Bay Lodge being cancelled at its current location, the hospital district board redirected almost $19 million to help pay for a $59-million facility at Mount View Heights, which will be leased to Baptist Housing for 25 years.
dspalding@timescolonist.com
We thought you might also be interested in..