CRD offers support, but no funding for mayors' commuter rail plan
Jul 12 2012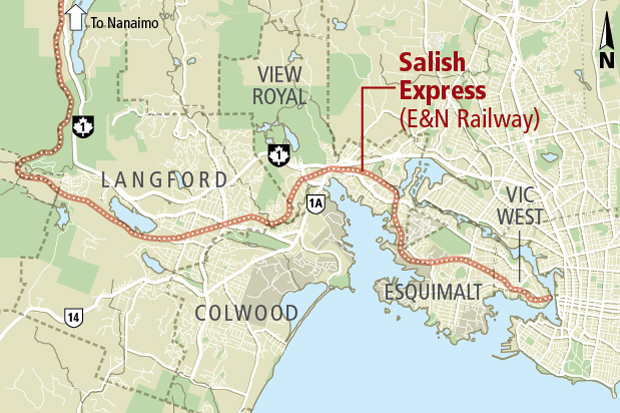 The train would link Langford and Victoria.
Photograph by:
timescolonist.com (July 2012)
Capital Regional District directors generally voiced their support Wednesday for funding a plan to help get commuter rail running on the E&N rail line. But coming up with the cash could be another matter.

The problem is there is no established CRD function from which to draw the requested $70,000 funds.

"We do not have a service to fund this study," Kelly Daniels, CRD chief administrative officer, told directors Wednesday.

"Even if we look at it as a feasibility study, the feasibility study funds are available for looking at the feasibility of the creation of a service, not for the operation of a service," Daniels said. "We don't believe — and we can check with our lawyer — but we don't believe the feasibility fund would be suitable for a study as in-depth as you're talking about."

Eight local mayors have written the CRD asking for $70,000 toward a $98,800 "commuter rail implementation plan" for what's been dubbed the Salish Express — a commuter rail service between the Cowichan Valley, Langford, Esquimalt and Victoria.

After considerable discussion, directors referred the issue to staff for a report on possible funding options, to made at the next board meeting. Several directors said there's some urgency to trying to get plan developed as quickly as possible.

But if the need for funding is urgent, Saanich Mayor Frank Leonard said, it would make more sense for the eight mayors to look to their councils.

"You're not going to get an urgent outcome if you're asking the CRD for money it can't fund," Leonard said. "There's eight mayors who signed. Why don't you each go back to your councils, get ten grand each and carry on? You can do that in two weeks. But to come here and try to create a function, that can take two years."

The implementation plan is to detail operating and capital costs for a two-year pilot service for a weekday commuter train between Victoria and Langford, and Esquimalt and Cowichan. It would identify the type of train and its availability, station stops and costs, ridership demand for the Esquimalt naval base and Victoria Shipyards, a fare structure, integration with B.C. Transit and a financial plan.

View Royal Mayor Graham Hill, who signed the letter, said the mayors felt the CRD was the appropriate place to start because the E&N line is in part owned by it. "We didn't want to pre-empt or pre-judge. We wanted information from staff that said this is feasible, or this isn't, because we are collectively the owners," Hill said.

Esquimalt Mayor Barb Desjardins, another signatory, said the group didn't believe it appropriate to move ahead on its own.

"What we've heard today is support around the table," Dejardins said.

The letter was signed by the mayors of View Royal, Esquimalt, Langford, Metchosin, Colwood, Sooke, Highlands and Sidney.

bcleverley@timescolonist.com

We thought you might also be interested in..
Notice
: Undefined index: event in
/home/viccity/public_html/v2/content.php
on line
67