Rotting sea lettuce is malodorous, but it's no health risk, officials say
Jul 13 2012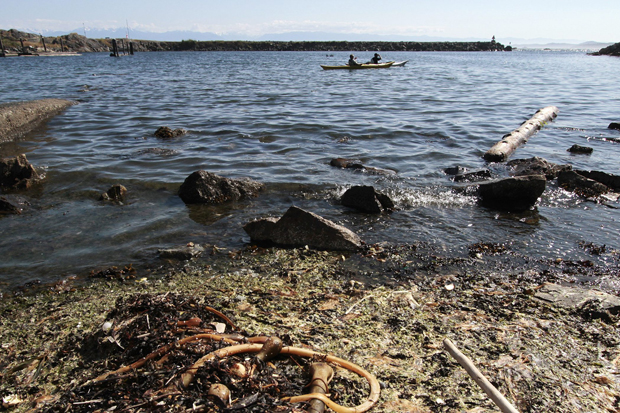 Sea lettuce in Esquimalt's West Bay area smells bad and looks worse: It can be mistaken for a sewage issue.
Photograph by:
Lyle Stafford , timescolonist.com (July 2012)
There's something rotten in West Bay, and it stinks.
It smells like rotting eggs, but it's actually rotting sea lettuce - and the unpleasant odours could continue into late August.
City officials say that while the sea lettuce may not smell good, it does not pose a health risk.
And for the locals, the bright green algae is just a fact of life.
"You know, you do what you have to do and there's so much beauty around it, you just get by it," said Esquimalt Mayor Barb Dejardins, who has lived on a houseboat in West Bay for the past six years.
"It's probably a bit worse at certain times of the day - when it's in the morning and misty. But you really do get used to it."
Asked if people ask her for a rebate on their taxes because of the unpleasant smell, Desjardins said with a chuckle: "No, because I tell them it's Victoria. And it is."
Desjardins said if she hears any complaints at all, it's usually about how it looks.
"Every once in a while, you'll be walking on the walkway and someone will think it's toilet paper from our sewers," Desjardins said.
The drying algae is sometimes mistaken for toilet paper as it bleaches white in the summer sun, leading some residents to believe human waste is involved, said Victoria spokeswoman Katie Josephson.
"Often, people will confuse it with a sewage issue," she said.
The ruffle-edged sea lettuce grows in warm, shallow waters and is found locally from West Bay Marina to Robert Street. Low tides and exposure to the summer sun cause it to dry out and wash to shore, where it accumulates and rots, releasing hydrogen sulfide - and that rotten egg smell.
Sea lettuce is just beginning to create concerns this year. "It's starting to be an issue now," Josephson said. "It varies in time depending on the temperature or the tides."
As unpleasant as the odour can be, there is no health risk, she said.
"In part, it's just the tidal action of the bay itself. It's fairly flat," said Josephson. bcleverley@timescolonist.com jwbell@timescolonist.com
We thought you might also be interested in..
Notice
: Undefined index: event in
/home/viccity/public_html/v2/content.php
on line
67