Arrested man didn't start fight: witness
Jul 13 2012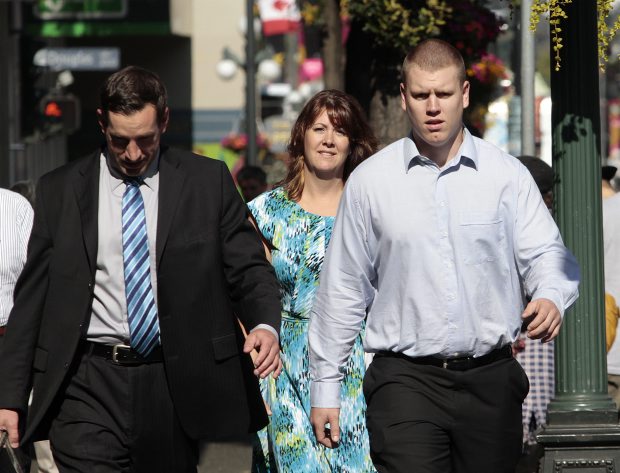 Tyler Archer, right, whose arrest is the subject of a public hearing trying to determine whether excessive force was used, heads ino a hearing in Victoria to testify this week.
Photograph by:
Lyle Stafford , timescolonist.com (July 2012)
A man involved in a brawl outside a Victoria nightclub testified at a public hearing Thursday that his friend picked a fight with Tyler Archer and was later knocked unconscious by an unknown man who came to Archer's aid.
The testimony by 28-year-old Michael Baron supports Archer's account that he was attacked and punched in the head about 12: 30 a.m. on March 21, 2010.
Archer, then 18, was arrested after someone told police he had been involved in a fight.
A retired judge appointed by the Office of the Police Complaint Commissioner is presiding over a public hearing that is trying to determine whether Victoria police constables Chris Bowser and Brendan Robinson used excessive force in arresting Archer.
A YouTube video showing the arrest, during which a police officer kicked Archer, brought public attention to the incident and is a key piece of evidence at the public hearing.
Baron said he was with a pubcrawl group that night and had about 20 drinks over 12 hours. He admitted to being extremely intoxicated and said he had a fuzzy memory of events.
He said as his group was coming out of Social Club, his friend, Ryan Friesen, saw a man approaching on the sidewalk.
Baron heard Friesen say, "This was the guy who was mouthing me off earlier," before Friesen began punching Archer.
Baron said he does not recall hearing Archer hurl an insult at his group, something suggested by Robinson's lawyer. Friesen was the aggressor and appeared to be winning the fight, said Baron.
Friesen was knocked to the ground by an unknown man who came to Archer's aid, Baron said.
Baron said the fight was broken up by police pepper spray. An officer handcuffed him and sat him against a pole on the grassy median where Archer was arrested. Baron, a 400-pound man visible in the video, said he didn't see Archer's arrest because he was blinded by pepper spray.
Lawyers for the police officers have previously suggested Archer had a role in Friesen's assault, which supported the urgency in arresting him.
Archer testified Wednesday that he thought officers were coming to help him since he had been punched in the face and had blood dripping from a broken nose. He denied trying to resist arrest.
A use-of-force expert also testified Thursday, saying Archer was not resisting and the officers used "unnecessary" force.
Orville Nickel, a retired RCMP officer who wrote a report on the incident, said Archer did not pose a threat to the two officers.
"What we saw here was not resistance that warranted that kind of behaviour from the officers," Nickel said. "There was no threat to the officers at all."
Nickel said Bowser's hard kick to Archer's side could have broken a rib. Two knee strikes delivered to the spinal column were "totally inadvisable" since they could have caused permanent damage, he said.
Nickel said officers are taught to be specific with their commands, such as lie flat on your stomach. He said Bowser could have handcuffed Archer while he was sitting on the ground, and there was no need for Robinson to manhandle Archer.
Robinson's lawyer, David Butcher, contested Nickel being relied on as an expert, saying he hasn't worked as a use-of-force trainer in more than a decade.
Butcher called him "not qualified and dangerous."
The adjudicator dismissed that argument, given that Nickel has testified in many other use of force cases.
kderosa@timescolonist.com
We thought you might also be interested in..