RCMP dive team recovers body of man whose boat capsized on Florence Lake on Thursday
Jul 14 2012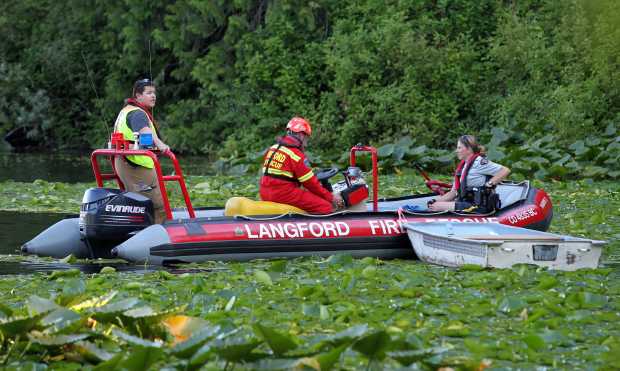 Firefighters and police search Florence Lake on Thursday evening for a missing man.
Photograph by:
Bruce Stotesbury, Victoria Times Colonist , timescolonist.com July 12, 2012RCMP divers recovered the body of a man from Florence Lake Friday morning, after his boat capsized Thursday evening.
The RCMP dive team had been searching the lake for the 60-year-old Langford man missing since the accident, which occurred just before 5 p.m.
The man, a resident of the nearby Hidden Valley Seniors Mobile Home Park, was with a 50-year-old friend, said West Shore RCMP Cpl. Cory Bayda. It's unknown what caused the three-metre rowboat to overturn about 25 metres from the north shore.
The body was discovered at 11:40 a.m. about 40 metres from where the boat capsized. The RCMP is contacting the man's next of kin.
Police have not released the men's names, but park manager Victoria Powell, said the 60-year-old had lived in the park for a few years. He added that the tight-knit community is distraught.
"He's a really sweet little man, very friendly, and we're all upset by this," she said.
The man enjoyed taking walks and working on his house, where he lived with a roommate, she said.
Both men, who witnesses said were drinking, swam toward the shore after their boat capsized. The 50-year-old man reached shore first and told a witness that he saw his friend behind him.
Police have not located his companion, who they say fled the scene. He is not considered missing and is reportedly "in good condition, just concerned for his friend," Bayda said.
Ken Hanlan said he was visiting his mother, a resident in the community, who told him she saw the 50-year-old on the shore.
"When the boat flipped over, he had climbed out of the water, soaking wet and asked my mom for a cigarette," Hanlan said.
"Then he said he couldn't stick around because there was a federal warrant out for his arrest. When they asked where his friend was, he said the last time he saw him, he was swimming toward the weeds. But he said he couldn't stick around."
Police received the same report, but couldn't confirm its accuracy.
Hanlan's wife, Robyn Wilson, who works at a nearby liquor store, said the 60-year-old man's friend was familiar to people in the area.
RCMP led the search, with assistance from Langford Fire Rescue and two dogs. On Thursday night, an 18-member search and rescue team searched the woods surrounding the area, as well as the water.
asmart@timescolonist.com
We thought you might also be interested in..