Piano project starts to sing
Jul 15 2012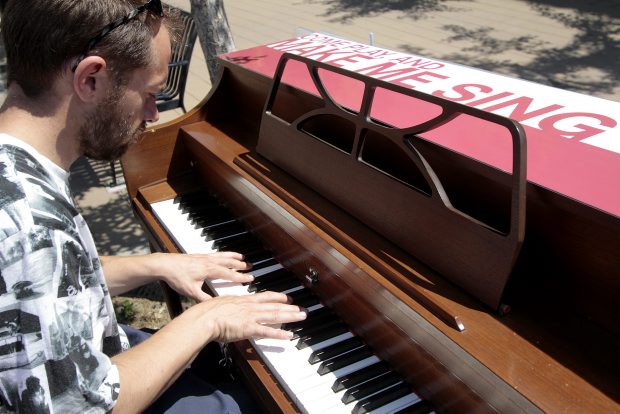 Adam Mahoney plays on the Make Me Sing piano at Fisgard and Douglas.
Photograph by:
Lyle Stafford , timescolonist.com (July 2012)
Sometimes there are just a few plinks, as a passerby taps the keys on his or her way by. From time to time, someone will sit down and stretch their fingers across the piano's keys, answering the call printed clearly on the instrument: Make Me Sing.
The brown upright at Fisgard and Douglas streets is one of two pianos downtown Saturday thanks to the initiative of 16-year old Alastair Kierulf, who was inspired to bring spontaneous music to Victoria after he saw an outdoor piano in London two years ago.
On Saturday afternoon, Adam Mahoney, 33, performed Aimee Mann's Medicine Wheel to no one in particular. It was the second time he played the piano on Saturday - an opportunity he doesn't get too often, anymore.
"Because the piano's here, now I'm getting to play," he said. "But I'm rusty."
He played the piano daily when he lived in Kingston.
"Then, when I moved to Victoria, I was like, 'What's missing?' " he said. "I've been in Victoria now for eight years and I've played maybe a handful of times in those years."
It's a pretty good piano, but a few of the keys lag, he said, tapping them.
Not too long after Mahoney moved on, Francis Bucher, 53, drew Amazing Grace through the keys. He started playing as a teenager and still tries to practice every day.
"When I was about 14, everyone played the guitar, so I thought it would be cool to play the keyboard," he said.
The skill comes in handy now that he's a teacher.
"Sometimes I use it at work and play for the kids and we sing," he said.
Kierulf, who performed Billy Joel's Piano Man when he dropped off the second piano at Government and Belleville at 9 a.m., said he looked forward to checking in on the instruments during their time in public.
"I'm really excited for this project to get going and for the public to really enjoy these pianos while they're out there," he said.
"Throughout the week I might pop by to see how they're doing." asmart@timescolonist.com
We thought you might also be interested in..
Notice
: Undefined index: event in
/home/viccity/public_html/v2/content.php
on line
67