Drowned man 'could give you his heart,' brother says
Jul 15 2012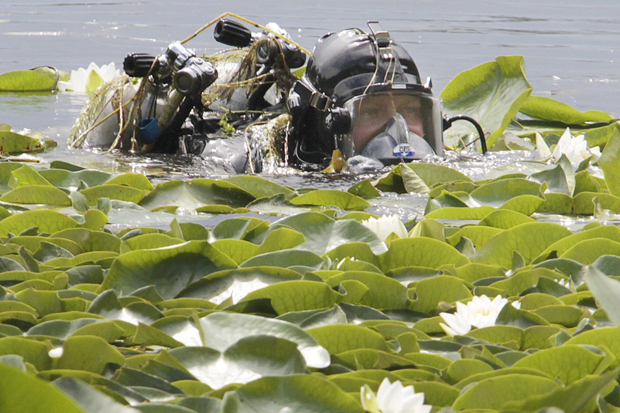 An RCMP dive team searches for a missing man in Florence Lake.
Photograph by:
Lyle Stafford , timescolonist.com (July 2012)
RCMP have identified Richard Lemieux, 60, as the man who drowned after his rowboat capsized on Florence Lake last week. Lemieux, a resident of the nearby Hidden Valley Seniors Mobile Home Park, was with a 51-year-old friend when the boat capsized, according to reports.
Police recovered the Langford man's body Friday morning.
Lemieux's brother, Gilbert Lemieux, said the family had been out of touch with him since he developed a drinking problem. The last time Lemieux, who grew up in Val-d'Or and Matagami, Que., visited him in the province was 2004.
"He was a good guy, but you know what drinking can do," he said. "I'm sad, but I kind of expected it - not that he would drown, but we were sure he would have an exit like that because of his drinking."
He said they had a better relationship before Lemieux started drinking.
"He could give you his heart," he said.
Lemieux was married to a Langford woman for more than 20 years.
"He was a great guy - very loving, caring," said stepson Rob Clements, 48. Lemieux and his mother broke up about six years ago.
Witnesses told police that both men were drinking and neither were wearing life vests, said West Shore RCMP Cpl. Bryson Hill.
"Either one of those things in a boat is dangerous, but when you combine them both, it becomes even more dangerous," Hill said. "In this case, it resulted in somebody losing his life."
Both men reportedly swam toward the shore after the boat capsized nine metres from the shore. The 51-year-old man reached shore first and told a witness that he saw Lemieux swimming behind him.
"These two grown men were only 30 feet from shore when the boat tipped, and they were both, at one point, attempting to swim to shore," Hill said. "So anything can happen."
Police have not released the name of Lemieux's companion, who fled the scene. Hill confirmed that the man is wanted on an unrelated charge of assault with a weapon and uttering threats.
While it is unknown what caused the boat to overturn, foul play is not suspected.
asmart@timescolonist.com
We thought you might also be interested in..