For 15 years, bus a beacon of hope
Jul 15 2012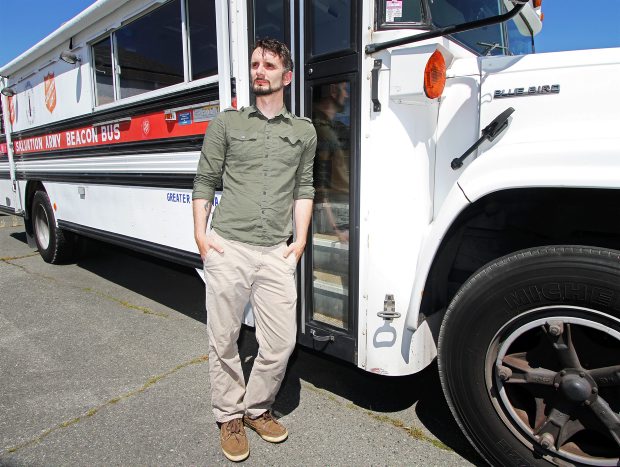 The Salvation Army's Beacon Bus — which provides food and basic necessities every Friday downtown and in emergencies — first hit Victoria streets in 1997 and is simply past its mechanical prime, says organizer Nathan Swartz.
Photograph by:
Adrian Lam , timescolonist.com (July 2012)
It's a kitchen on wheels, an emergency vehicle and a storehouse for warm clothing and blankets.
The Salvation Army's well-travelled Beacon Bus has been all of that and more since it first hit the streets in 1997. The retooled GMC school bus has been on virtual call 24/7 since then, responding to searchand-rescue incidents, police and fire evacuations, mock disasters, training sessions for Emergency Social Service workers and many other situations.
The bus has also been used to bring breakfast programs to local schools and has been a steady presence in Victoria's downtown area, providing food and basic necessities - as well as counselling and encouragement - to people in need.
Most recently, the bus has made weekly stops at the Blanshard Community Centre to give out food.
"We go pretty much every Friday," said Nathan Swartz, who runs the Beacon Bus program. "We feed quite a few people there, about 60 a night,"
On occasion, the busy vehicle has even been called on to lend a hand in other communities, notably as a feeding post and service centre during forest fires near Salmon Arm in 1998 and around Kelowna in 2003.
Carolyn Thomas, the original project co-ordinator for the Beacon Bus, recalled being at the first major incident the bus attended, a major 1997 blaze at a Herald Street building that had firefighters busy for nine hours. Emergency crews and people displaced by the fire were fed soup, hotdogs and coffee.
But after 15 years, the time has come to park the bus, which is simply past its mechanical prime.
The bus has done all that has been asked of it, and more, said Swartz.
"It's showing its age and it's harder to maintain. It's either time for a very serious retrofit on the bus or a new vehicle, and it just makes more sense to get the new vehicle at this point."
Despite that, the number of call-outs for the Beacon Bus has doubled in the past year, Swartz said, and it was also on standby to help after recent flooding around Sicamous.
Salvation Army officials hope the bus can be retired by Christmas, said spokeswoman Carol Barton. They envision a Mercedes-Benz Sprinter cargo van as a replacement.
The new vehicle, which will be retrofit, will cost $100,000 - less than the approximately $120,000 spent on its predecessor. The Salvation Army is looking for a major sponsor to help with the purchase, and donations are being gratefully accepted.
Thomas said vehicles much like the Beacon Bus are operated by many Salvation Army divisions.
"Particularly in the States, almost every major city would have a mobile disaster-response vehicle."
Thomas said the concept for the Beacon Bus was largely based on the Care and Share Bus run by the Salvation Army in Edmonton. She said the Beacon Bus has been a great success, and has also provided a visual reminder of what the Salvation Army does around the community.
"It's been fantastic on many levels."
For details on how to donate, call Barton at 250-386-3366 (ext. 4) or email carol_barton@ can.salvationarmy.org.
HARLEY RAFFLE RAISES FUNDS
Langford and Sooke firefighters have joined forces with Steve Drane Harley-Davidson to raffle a motorcycle in support of muscular dystrophy research.
Firefighters across the country have been raising money to assist Muscular Dystrophy Canada since 1954.
Draw date for the raffle, which features a 2012 Harley-Davidson Switchback, is Aug. 12. Tickets are $20, and only 3,000 have been printed.
For tickets, visit the dealership at 2940 Ed Nixon Ter. in Langford, email harleydraw@live.ca or call 250-857-0626.
GROUP SUPPORTS MEMORIAL PARK
Fundraising efforts for the Little Spirits Garden - a new area of the Royal Oak Burial Park for families who have lost babies - will be assisted by the Saanich Legacy Foundation.
The foundation is partnering with the burial park to raise $275,000 for the project, which will provide a special place for remembrance. A pavilion will be in place for families who would like to conduct ceremonies. To donate, go to saanichlegacy.ca.
DAY IN PARK FUN FOR KIDS
Fun Day in the Park is returning for a fourth year of live music, children's activities and food.
The July 28 event, which runs from 11 a.m. to 4: 30 p.m. at Cadboro-Gyro Park, is put on by volunteers for the Crohn's and Colitis Foundation of Canada. Last year's Fun Day attracted close to 1,000 people and raised more than $11,500 for research into Crohn's disease and colitis, which affect close to 200,000 people across Canada.
Sig Reuter, the Paul Wainwright Band, The Street and Fir Cone will supply the music. Parkgoers can also enjoy a silent auction, treatments from Heal Yourself Reflexology and massage by students from the West Coast College of Massage Therapy.
Admission is free.
On the web: fundayinthepark.ca
DRAGON BOAT LANTERNS ON SALE
The Lights of Courage fundraising campaign, part of next month's Canada Dry Victoria Dragon Boat Festival, will be launched Monday at the Fairway Market in Quadra Village.
The campaign raises money for the B.C. Cancer Foundation in support of cancer research. People can contribute by buying $2 paper lanterns at any Fairway Market location.
The lanterns come with a tag for a personal message.
Everyone who purchases a lantern is invited to bring it to the festival on Aug. 17 to be part of a public display.
Golf tourney continues legacy
Janik Rai is continuing an impressive legacy created by her grandparents, Dee and Jake Sangha, by hosting a fundraising golf tournament to benefit the Vancouver Island Kidney Patients' Association.
The Sanghas began hosting an annual golf tournament in 1994, a year after Dee had a kidney transplant with her daughter, Maya, as the donor. They raised $300,000 over the next 15 years before stepping aside due to health issues.
This year's tourney takes place Aug. 18 at Cedar Hill Golf Course with a 1 p.m. shotgun start.
Cost is $130 per person, which includes golf, dinner and prizes. Dinner only is $50.
For more details, call 250-652-6326.
ROD PROGRAM HOOKS ANGLERS
Greater Victoria is among 16 locations for a rod-loan program created by the Freshwater Fisheries Society of B.C.
The idea is to give those new to angling a chance to experience the popular pastime. Use of the rods is free.
For aspiring anglers, youth groups and others, 20 rods are available for loan at the West Shore Sport Fishing Centre, 693 Hoffman Ave. A deposit is required.
Call the centre at 250-298-4665.
jwbell@timescolonist.com
We thought you might also be interested in..