The test that can save your life
Jul 15 2012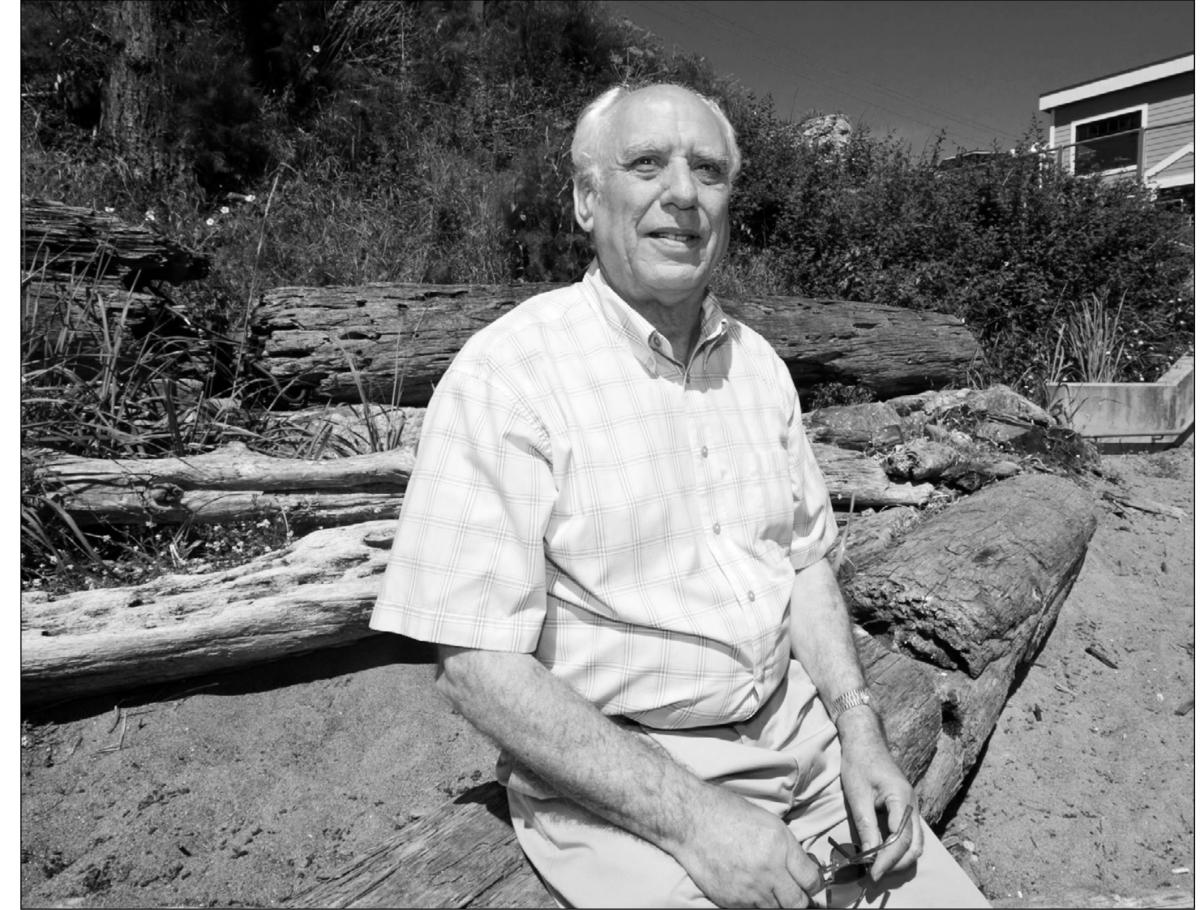 Cordova Bay resident Roger Stonebanks credits regular tests with detecting his cancer and saving his life.
Photograph by:
Darren Stone, Times Colonist , Times Colonist; With Postmedia News Files
Cordova Bay resident Roger Stonebanks says the icky factor related to a yearly stool test was a small price to pay when it detected cancer helped save his life.
Colorectal cancer, the second leading cause of death from cancer in adults, can develop from small growths in the colon and rectum. The polyps can become cancerous, but are easily removed during a colonoscopy.
If the cancer is detected at its earliest stages, the chance of survival is more than 90 per cent. Once diagnosed, however, the survival rate drops to about 58 per cent.
"I had no symptoms, no pain, no tiredness, nothing whatsoever," said Stonebanks, 72.
The retired journalist was given the test - a fecal occult blood test that looks for blood in stool samples - by his doctor as part of his annual checkup. The test is recommended for adults between 50 and 74, though studies estimate that only about 37 per cent take it.
Stonebanks took the test for 10 years and heard nothing - until a positive result in 2009 led to a colonoscopy, which detected cancer. A successful surgery was performed on New Year's Eve that same year and he has since been cancer-free.
PROGRAM NEEDED
Stonebanks is supported by health experts and politicians when he says a national or provincial colorectal screening program, similar to those for breast and cervical cancers, is imperative.
According to the Canadian Cancer Society, an estimated 23,300 Canadians will be diagnosed with colorectal cancer this year, and 9,200 will die of it. In B.C., the society projects there will be 2,880 new cases this year, and 1,200 people will die from it.
The B.C. government has acknowledged the need for such a program, and in 2009 introduced a pilot colorectal cancer screening program in Penticton, Powell River and parts of Vancouver.
As part of the $3.8-million pilot, called Colon Check, eligible people in the high-risk age group of 50 to 74 were encouraged to call a toll-free number and get a $20 immunochemical fecal occult blood test sent to their home.
According to the Ministry of Health, the program has completed more than 15,000 screenings. Pre-cancerous lesions have been removed from hundreds of patients and 46 cases of cancer have been detected.
But after three years, experts are questioning why the program hasn't been expanded.
In a statement, the B.C. Ministry of Health said only: "We continue to work with the B.C. Cancer Agency and the Provincial Health Services Authority to determine the most effective and efficient way to develop a provincial colorectal cancer screening strategy."
'SCREENING IS POOR'
Earlier this year, a study by general surgeon Dr.
Hamish Hwang showed that nearly half of patients being treated for colorectal tumours in Vernon didn't learn they had the disease until they turned up in the city hospital's emergency department with severe complications such as bowel obstructions, hemorrhages or perforations.
The year-long study, published in the B.C. Medical Journal, found that 43 per cent of patients treated for colorectal cancer at the hospital were admitted in an emergency situation - much higher than the rates of six to 34 per cent seen in other studies.
The advanced age of the general Vernon population and the lack of an effective provincial colorectal cancer screening program in B.C. were partly to blame, the study indicated.
Countries with a national screening program, such as Germany, Italy, and Australia, have far fewer cases of people presenting with colorectal cancer in emergency rooms than in countries such as Spain, Norway, and Ireland, where there isn't a national screening program, the study says.
"Colorectal cancer screening in Canada, in terms of both rates and adherence to guidelines, is poor, and screening in B.C. may be worse than in other provinces," the study says.
A late diagnosis of colorectal cancer means higher disease and treatment complications, hospital stays, health system costs, admissions to residential care facilities and deaths, compared with patients diagnosed earlier.
"The prospect of an aging population and the results of this study both support establishing a provincial screening program to reduce the costly incidence of colorectal cancer emergencies," the study says.
COST EFFECTIVENESS
The B.C. NDP is preparing its own screening program in the event that the pilot program isn't expanded and the NDP forms government after next year's provincial election.
"I don't know what the delay is, actually," said NDP leader Adrian Dix. "It might be financial. The case for acting now is stronger than ever and we will keep the pressure on."
The cost of screening is relatively inexpensive but the cost of treatment and death is high, Dix said.
A colorectal-cancer screening program, similar to those in existence for breast and cervical cancers, would reduce death rates by up to 83 per cent and reduce incidence by up to 81 per cent, according to a University of B.C. study in the Canadian Medical Association Journal in 2010.
In the study, which looked at the cost-effectiveness of colorectal cancer screening, UBC and Dalhousie University researchers concluded that, depending on the type of screening test used, incidences of colorectal cancer could be reduced by 44 to 81 per cent, and death rates could be reduced by 55 to 83 per cent, compared with no screening program.
And, even though programs to screen 100,000 people regularly after age 50 may cost about $70 million over the group's lifetime, they are still cost effective, largely because prevention avoids the expense of treatment.
Such treatment - which includes surgery, lab tests, doctor visits and chemotherapy - can range from $5,000 to $500,000 per patient each year, depending on the stage at which cancer is first diagnosed.
Of course, there's nothing stopping people from simply asking their doctors for a test.
In addition to tests conducted through B.C.'s pilot programs, more than 687,000 people completed a fecal occult blood test in 2011-12 after visiting their physicians.
Over the same period, more than 41,000 colonoscopies were completed, according to the health ministry.
However, research shows that provincewide programs that are run like public health programs where people in high-risk categories don't need a doctor's referral and are proactively contacted to be screened have a much higher uptake.
A LONG WAIT
Both the Colorectal Cancer Association of Canada and the Canadian Cancer Society have called for a provincewide colorectal cancer screening program.
"Adrian Dix has it right when he advocates that it's time to take the next step and start saving lives," said Barry D. Stein, president of the Colorectal Cancer Association of Canada. "B.C. is really ready for it, it's just time to do it. Just make that commitment."
Every province has some type of screening program, with the exception of Quebec, which is rolling out a demonstration project this year, Stein said.
"Behind the scenes, we have been waiting a very long time for the commitment from B.C. to go provincewide," Stein said. "We're just waiting on the ministerial approval to do it. It's time to do it. There's no excuses. It saves lives and it's cost effective."
BY THE NUMBERS
23,300 number of Canadians who will be diagnosed with colorectal cancer in 2012
9,200 number who will die from it
55 to 83 the percentage by which a colorectal screening program would reduce death rates
44 to 81 percentage by which it would reduce incidence of the disease
$70 million cost of programs to regularly screen 100,000 people from age 50 until they die
$5,000 to $500,000 cost to treat a colorectal cancer patient for one year
charnett@timescolonist.com
We thought you might also be interested in..
Notice
: Undefined index: event in
/home/viccity/public_html/v2/content.php
on line
67