Rock the Shores had challenges, but "was epic and rewarding in the end," organizer says
Jul 15 2012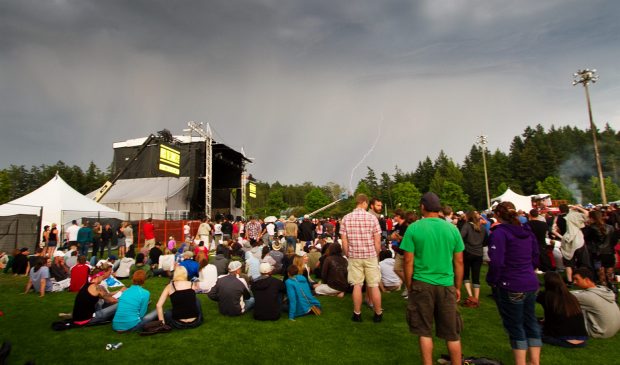 The crowd waits as the Rock the Shores concert is stopped due to weather.
Photograph by:
Darren Stone , timescolonist.com (July 2012)
Revellers at Rock the Shores on Friday night got more than they bargained for when a thunder and lightning storm hit the region.

"The weather threw us a curveball," said organizer Nick Blasko, who is co-producer of Atomique Productions. "It was a triumph when the Hip took the stage."

About 12,500 people turned up for the outdoor concert at Juan de Fuca Recreation Centre to see performances from the Tragically Hip, Sam Roberts Band, Current Swell and Jets Overhead.

Organizers monitored the weather closely, Blasko said, and for safety reasons cut Sam Roberts Band's set short at 8 p.m.

"It was unfortunate … but Sam understood and was a sport about it," Blasko said.

The three other bands performed full sets, but the Tragically Hip were delayed by 30 minutes, waiting for the weather to improve. They took the stage at 9:30 p.m.

"The lightning provided some entertainment," Blasko said with a laugh.

He said other than problems caused by inclement weather, the show went as planned.

"The vast majority of people had an amazing time," he said.

Post-show, some people raised concerns on Facebook and Twitter about long lineups to get past the gate.

Blasko said the queue peaked between 4:30 and 5:30 p.m. with people waiting for up to 40 minutes.

The beer garden was also busy, reaching maximum capacity at 5,000, he said.

One pleasant surprise was a lack of traffic congestion, Blasko said. Traffic was expected to be an issue and in anticipation, many concert-goers left their vehicles at home.

More than 2,000 people bicycled to the show while others walked, so traffic was smooth, Blasko said.

For West Shore RCMP, the show was uneventful, said Cpl. Antonio Hernandez. "I think everything went well," he said.

There were a handful of arrests made for public intoxication, Hernandez said.

"The audience was very well-behaved and co-operative," Blasko said.

On Saturday, crews and 20 volunteers spent the day cleaning up. Everything, including the stage, will be gone by Monday.

"We're making great headway," Blasko said.

For Blasko, Rock the Shores was a major hit.

"It had its challenges but it was epic and rewarding in the end," he said.

-- With files from Mike Devlin and Judith Lavoie

cclancy@timescolonist.com

We thought you might also be interested in..
Notice
: Undefined index: event in
/home/viccity/public_html/v2/content.php
on line
67