Cancer claims ida Clarkson, Victoria's 'first lady of television,' at 85
Jul 16 2012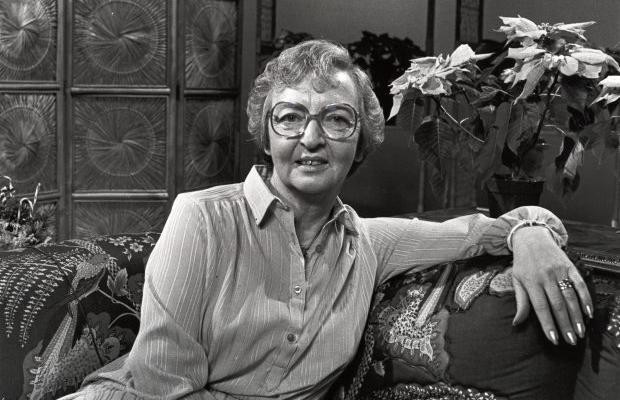 Ida Clarkson, seen here in a photo taken in 1982, was well respected on the Island as a veteran radio and television broadcaster.
Ida Clarkson died in the midst of an intense thunder and lightning storm early Friday. It was a fitting exit for a woman who lived a spectacular life, said Clarkson's daughter, Chris McLaren.

"She was sharp, she was cool, she kept herself young and vital until the end," McLaren said.

Clarkson died of lung cancer at age 85. She was best known by the community as a veteran radio and television broadcaster.

"She was an incredibly warm individual. The way she was on her program was the way she was in life," McLaren said.

Clarkson's career was launched when she was hired as a creative writer for CJVI Radio in 1946. She advanced in the station but took a hiatus in 1951 to raise a family. Her husband, Vince Clarkson, died in 1980 of lung cancer, McLaren said.

Clarkson returned to broadcast in 1961 with a job at CHEK Television, where her career would span 30 years.

"She loved [broadcast], she loved the medium and her career," McLaren said.

She joined CHEK as a copy editor and later became the host of a live daily show. The show evolved into the Ida Clarkson Show — a platform to showcase local community groups and artists.

McLaren said though her mother had a successful career, her commitment to family was unmatched.

"She passed in the same way she lived her life — with dignity, beauty and grace," she said. "She was a wonderful mother."

Bruce Kirkpatrick of CHEK News remembers Clarkson from his first days at the station, almost 40 years ago.

"She once told me, 'Don't force the camera, don't force the mike, just be natural,' " he said. "And she was."

One part of her legacy benefits future broadcasters in Victoria, through a Camosun College scholarship established in her name. It's designed to help under-represented groups in the industry — fitting Clarkson's own history.

Clarkson started in broadcast journalism when it was a man's domain, Kirkpatrick said.

"She meant a lot for women in broadcasting in Victoria," he said.

"She was focused, she knew what direction she was going in and was never one to waffle."

Nicknamed the first lady of television, Clarkson had a gentle personality to match her professional capabilities, he said.

"She was very trusting and understanding, she didn't panic."

In addition to McLaren, Clarkson leaves behind her daughters Cathy Lavoie and Paula Smith as well as four grandchildren and one great-grandchild. The tight-knit family all live in Victoria.

cclancy@timescolonist.com

We thought you might also be interested in..
Notice
: Undefined index: event in
/home/viccity/public_html/v2/content.php
on line
67