Amid high emotions, View Royal council OKs fire hall referendum
Jul 18 2012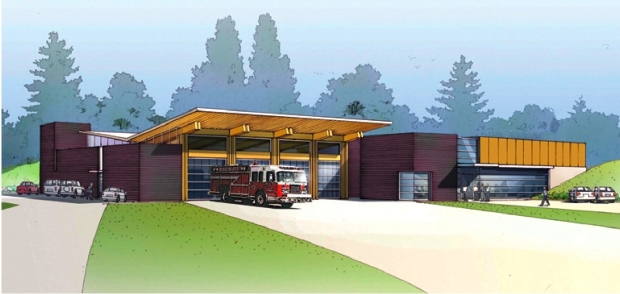 An architect's drawing of the proposed View Royal fire hall on the 300-block of Island Highway.
Photograph by:
Hughes Condon/Marler Architects , April 2012
At an emotionally charged public meeting Tuesday night, View Royal's town councillors said they would go to a referendum in the fall to get approval to pay for a multimillion-dollar fire hall.
Residents last week put an end to council's bid to borrow up to $8 million for the new facility when 1,300 people signed petitions against the loan.
The politicians told the audience at a packed town hall that they don't plan to spend $8 million and that they would better inform the public about all the options considered for the proposed protective services building, which includes a replacement fire hall, training centre and administration space.
"You don't want to send your husbands and your friends out to a place where the roof might fall in. You don't want to rely on the building collapsing on your trucks and your equipment," said Mayor Graham Hill, in support of the new facility. "You want a safe place for them to work from to do a good job."
Council decided in May to borrow up to $8 million. They used an approval process that required 10 per cent of the electorate -- 770 people -- to file a petition against the loan if they wanted to stop it.
Some of the 1,300 people who signed the petition continued to criticize the elected officials Tuesday.
Council nearly stopped the meeting early on when one resident accused the politicians of lying about the proposed fire hall.
Coun. David Screech was on his way out of the room when he suggested they take a break.
He later addressed the audience about the accusations he has heard during the campaign to stop the borrowing of $8 million.
"We're here to serve our community and you can disagree with us and I can respect that fully, but I don't respect you when you call me a liar and attack my personal integrity," he said.
Most residents who spoke on Tuesday said they agreed that there was a need for a new fire hall, but that they did not want to spend $8 million. Councillors said they would consider selling the property of the current fire hall at 280 Island Highway.
Those funds would help pay for the new facility proposed for a property on the highway near Burnett Road.
Hill said he and his colleagues would do whatever they could to prevent the cost of the new facility from reaching the maximum they are allowed to borrow.
dspalding@timescolonist.com
We thought you might also be interested in..
Notice
: Undefined index: event in
/home/viccity/public_html/v2/content.php
on line
67