Outlaw Kate saddling up for Mongolian gallop
Jul 18 2012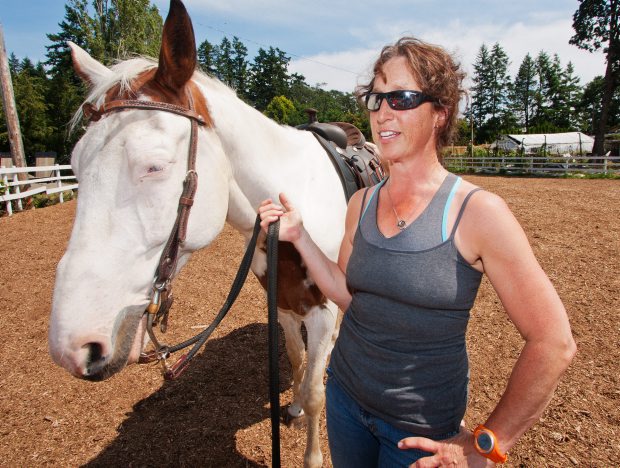 Katherine Friedley has been working with a number of horses in Greater Victoria to train for the Mongol Derby.
Photograph by:
Darren Stone , timescolonist.com (July 2012)
Katherine Friedley could have gone on several luxury cruises for the money she is spending on her vacation this year.
Instead, she has chosen 10 days galloping 1,000 kilometres across the Mongolian steppe on tough, semibroken little horses, in a race that includes warnings of possible death and reminders that if she is seriously injured, a hospital might be hundreds of kilometres away.
The Mongol Derby is billed as the world's toughest horse race, and the only prize is bragging rights.
"There's no big prize, just the adventure of a lifetime and, at the end, I expect, a lot of Mongolian beer," said Friedley, who is training on southern Vancouver Island.
The adventure will cost Friedley about $15,000 and while she has attracted some sponsors, she is looking for more. She also aims to raise at least $1,500 for Mercy Corps, which does development projects in the country.
So what made her decide to take part?
"I saw it on the Internet - how else?" said the 47-year-old Friedley, who is billing herself as Outlaw Kate for the race.
"It was a gut instinct. I threw in my application at the last minute in late November and they phoned back within days."
Friedley moved in March to Vancouver Island from her ranch near Drumheller, Alta., to train with an endurance coach. She is now riding several horses around Greater Victoria, though she acknowledges they are a far cry from the horses she will be riding in Mongolia.
The more than 1,000 small horses used in the race belong to local nomadic families who have worked to bring them up to race standards.
When the race starts Aug. 10, the first horses will be assigned to the 35 riders. After that, they will choose their own horses at stations every 40 kilometres along the route, changing horses three times each day.
Friedley grew up on an Alberta ranch and riding is second nature to her.
"My first memories are on a horse with a piece of baler twine around the neck," she said. "I'd be gone all day."
Her main objective is to ride the race under her own terms and not get caught up in the hype, she said. "My official motto is: I refuse to take any of this seriously."
Publicity about a Canadian woman taking part in the race means Friedley will now have to tell her 88-year-old father her plans.
"He's probably going to be a little freaked," she said. Her husband is also concerned, "but the rest of the family have all accepted it."
Friedley's progress in the race can be followed online at mongolderby.com.
jlavoie@timescolonist.com
We thought you might also be interested in..
Notice
: Undefined index: event in
/home/viccity/public_html/v2/content.php
on line
67