Two men hoisted to helicopter in rescue after sailboat loses steering
Jul 18 2012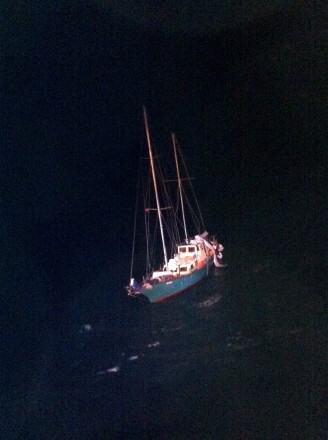 A 50-foot sailing vessel, adrift in Queen Charlotte Sound, is seen under the glow of a Cormorant Search and Rescue helicopter's searchlight, early Tuesday, July 17, 2012. The two sailors on board the ship were later hoisted to safety and flown to Port Hardy.
Photograph by:
Transport and Rescue Squadron Sgt. Robin Richardson , The Canadian Press
Two men had to be rescued early Tuesday by search-and-rescue technicians from 19 Wing Comox after their 50-foot sailboat lost its steering in Queen Charlotte Sound.

The stricken vessel was tossed around in heavy seas but was not in any danger of sinking, said Al Lynden, marine controller at Joint Rescue Co-ordination Centre Victoria.

The sailors had set out from Queen Charlotte City two days before they ran into trouble, Lynden said. A mayday distress signal was issued at 8:10 p.m. Monday, shortly before the vessel lost its radio signal.

A Buffalo airplane and Cormorant helicopter arrived in the area by 10 p.m. and a radio was dropped by parachute to the crew to re-establish communications.

The cruise ship Star Princess was summoned to help, as were the Canadian Coast Guard vessels Tanu and Cape Farewell, said a statement issued by 19 Wing.

The cruise ship came alongside and blocked some of the heavy seas so a search-and-rescue technician, Sgt. Robin Richardson, could be lowered into the water near the boat.

"The boat was going up and down, side to side quite a bit as I swam," Richardson said in the statement.

The two men were hoisted to the helicopter, which was hovering 17 metres above the ship.

The rescue was completed by 1 a.m., Lynden said.

The men were taken to Port Hardy and handed over to B.C. Ambulance, but neither were believed to be injured. The location of the vessel, about 30 miles south of Haida Gwaii, was broadcast to mariners in the area as a potential hazard.

The identities and the hometowns of the men were not released.

We thought you might also be interested in..