Constable dove in, helped man to shore
Jul 19 2012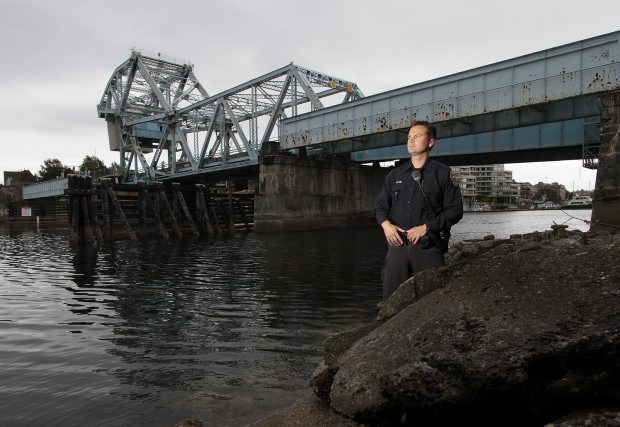 Victoria Police Const. Mark Jenkins stands near the spot where he dove into the chilly harbour waters to rescue a man who had jumped from the Johnson Street Bridge.
Photograph by:
Lyle Stafford , timescolonist.com (July 2012)
A Victoria police officer who dove into the harbour to save a man who had jumped from the Johnson Street Bridge says he did what any officer would do.
Const. Mark Jenkins said he and Const. Greg Horonowitsch were on lower Johnson Street on Tuesday afternoon when a call came in about a distraught man jumping from the bridge.
When the officers drove their police van to the Vic West side of the bridge, they could see the man treading water about 10 metres from shore.
"He was flailing his arms," Jenkins said. "Both my partner and I were yelling at him to swim toward the docks."
The man, who appeared to be a poor swimmer, started to sink, popping up for air.
"At that point, we realized he was in trouble," said Jenkins, who took off his heavy gear - tool belt, service revolver, radio and vest - and jumped into the water. He swam to the man and dragged him to the rocky shoreline, where Horonowitsch and backup officers were waiting.
An exhausted Jenkins sat down to catch his breath while police escorted the man to waiting B.C. Ambulance paramedics.
The 31-year-old View Royal man was uninjured but was taken to hospital for examination.
Jenkins said diving in after the man was the only option. "[The man] is safe and he got the help he needs."
Jenkins, 41, made a career switch from school teacher to police officer three years ago. He most recently taught at Christ Church Cathedral School.
"I just decided that I was ready for change," he said.
"[I wanted] the challenge of it - the diversity and the nature of the job and really working with the public."
Jenkins said the incident made for an exciting story for his wife and their three children, ages five, four and 2 1 /2.
"She was proud and the kids were proud," he said. "They thought it was great and it made a good bedtime story."
kderosa@timescolonist.com
We thought you might also be interested in..
Notice
: Undefined index: event in
/home/viccity/public_html/v2/content.php
on line
67