Officer says he faced a 'chaotic' situation (with video)
Jul 19 2012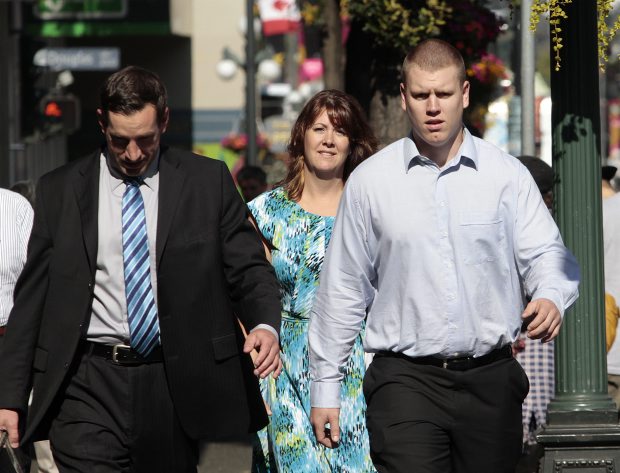 Tyler Archer, right, gave a "thousand-yard stare" and looked aggressive, says a Victoria officer.
Photograph by:
Lyle Stafford , timescolonist.com (July 2012)
A police officer whose forcible arrest of a man is under scrutiny at a public hearing says he responded professionally to a chaotic situation when he kicked 18-year-old Tyler Archer after a late-night brawl outside a downtown bar.
Const. Chris Bowser's testimony on Wednesday was the first time he publicly defended his actions of March 21, 2010, when he and Const. Brendan Robinson arrested Archer.
The public hearing, ordered in February by the Office of the Police Compliant Commissioner, is examining the force used by Bowser and Robinson during Archer's arrest - which was filmed and posted on YouTube. Three previous external investigations have cleared the officers of wrongdoing.
Police were called to the Social Club on Store Street about 12: 30 a.m. after a brawl had broken out.
Archer and his lacrosse teammates had been in a fight with a group of men on a pub crawl.
Bowser, who held back tears during parts of his testimony, said it was "chaotic, frightful scene."
He said he intended to arrest Archer after seeing him break from the melee.
"An officer's greatest weapon is his presence and his mouth," Bowser said, adding that those are the first tools used to bring a situation under control.
He said Archer approached him with "a thousand-yard stare" and looking aggressive. The young man "was coming back for no good," he said.
Bowser testified that when he ordered Archer to the ground and to put his hands behind his back, Archer was actively resisting arrest.
"His body is rigid, he's moving, he's yelling, he's screaming," Bowser said.
The officer said Archer had his hand near his waistband, which triggered him to respond in accordance with his training.
"Hands around the waist is a dangerous situation," Bowser said. "It takes half a second to kill someone with a knife."
Bowser said he targeted a large fleshy muscle group and kicked Archer, who was on his hands and knees. He then kneed Archer twice in the back before he is handcuffed.
Archer testified on July 11 that he gave his right hand to Robinson but couldn't give his left hand without falling forward on his face. He said he wasn't crawling away but was trying to keep his balance.
Archer's lawyer, Richard Neary, argued that his client wasn't given an opportunity to comply with Bowser's directions before the kick was administered.
"What possible risk could there have been if you told him to lie on his stomach and wait to see if he did?" Neary asked.
Bowser responded that the situation was "beyond that point."
Neary also said that in statements Bowser has given on the incident - including interviews with Vancouver Police, Calgary Police and seven pages of notes Bowser wrote days after the incident - he didn't describe Archer's hand being at his waist or suggest this as the reason for escalating force. Neary called the omission concerning.
Neary read from a statement Bowser made to Calgary Police on Oct. 6 ,2010.
"That day," he said, "you told Calgary Police interviewing you that Mr.
Archer had escalated into assault."
At the hearing, Bowser confirmed that Archer hadn't reached this stage, but insisted he exhibited "pre-assaultive cues."
A 56-second YouTube video showing events unfold after police arrive on scene is a key piece of evidence at the hearing. In the video, Bowser's attention is directed to Archer, who is on a grassy median.
Bowser tells Archer to get down on the ground, at which point Archer sits down on the median.
Archer can be heard saying, "I'm fine, I got punched in the face."
Robinson pushes Archer to his hands and knees and Bowser is heard telling Archer to put his hands behind his back. Bowser then kicks Archer in the side and knees him twice in the back before Archer is successfully handcuffed.
The hearing is set to continue today.
cclancy@timescolonist.com - With files from Katie DeRosa
We thought you might also be interested in..