Ancient remains caught up in spat over reburial cost
Jul 19 2012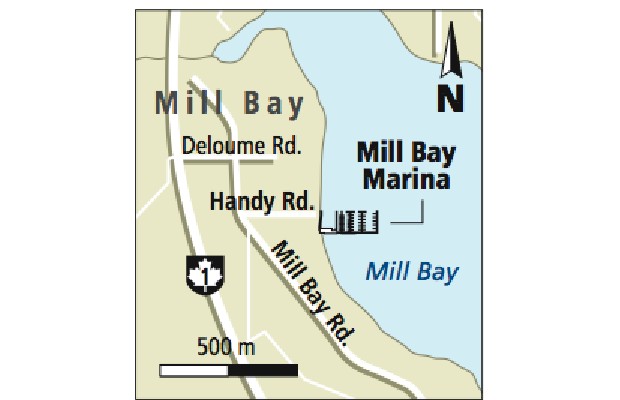 Mill Bay
Photograph by:
Times Colonist , timescolonist.com (July 2012)
Nine sets of ancient human remains are in limbo because of a disagreement between the Malahat First Nation and the developer of Mill Bay Marina over the cost of reburial.
The remains, believed to be about 2,000 years old, and more recent artifacts were found this year during construction of a new marina at the end of Handy Road in Mill Bay.
The development company, Mill Bay Marina Inc., knew it was an archeological site and had already applied for permits and hired Madrone Environmental Services to conduct a dig, said general manager Duane Shaw.
"It took four months and we spent between $250,000 and $300,000 on the dig," he said.
But Malahat Chief Michael Harry said the company is not keeping its pledge to "do the right thing."
"The only thing we have ever asked was [for] the cost of reburying the remains," Harry said.
Mill Bay Marina has offered $10,000 as a contribution toward the burial costs, plus the cost of renting the container in which remains are now being kept on the marina property.
But Harry, who has turned down the offer of $10,000, said the cost of reburial will be at least $30,000 - not including legal and other costs the band has already incurred.
"It has cost us $40,197 to get this far with no results, and we are only asking for $30,000 for reburial," he said. "We want the job done right."
Reburial of First Nations ancestors requires ceremonies, with elders deciding where the remains should be put to rest. Even a non-First Nations funeral runs between $5,000 and $10,000, Harry said.
"And we have nine human remains."
A letter sent to Harry by Madrone senior archaeologist Kira Kristensen says there are two options: reburial of the human remains on the Malahat reserve or reburial in a previously assessed portion of the marina site, which would be made into a permanent green space.
A decision is needed by Aug. 2, Kristensen wrote.
"Should no decision be reached, the remains will be reburied on the [marina] property."
Shaw said the company has deliberately kept at arm's length and allowed decisions to be made by the experts it hired.
"We have done nothing except try and act respectfully. We have done everything we can," he said.
"There is no legal obligation on our behalf to make any contribution, but we have said we will do it, anyway."
Brennan Clarke, spokesman for the Forests Ministry, said the aim is for developers and First Nations to come to an agreement when remains are found.
"While there are costs associated with reburials, there is nothing in the legislation that requires the property owner to be responsible for these costs," he said.
At the very least, developers are expected to provide a suitable place to rebury remains, he said.
However, Clarke said, developers do have to pay for all archeological studies related to a proposed development.
"If destruction is impossible to avoid through redesign of the project, further archeological studies are required," he said.
"This generally involves archeological monitoring and data recovery so information is recovered from the site before it is destroyed. The property owner is responsible for funding these studies."
jlavoie@timescolonist.com
We thought you might also be interested in..
Notice
: Undefined index: event in
/home/viccity/public_html/v2/content.php
on line
67