Cyclist 'lucky to be alive' after crash
Jul 20 2012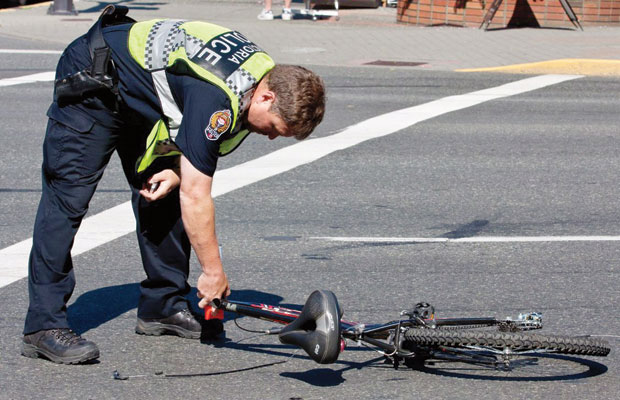 Police investigate after a bicyclist collided with a truck near the corner of Douglas Street and Burdett Avenue on Thursday.
Photograph by:
Darren Stone , timescolonist.com (July 2012)
A cyclist suffered minor injuries in a collision with a truck just after 9 a.m. Thursday, though his bike wasn't so lucky.
The 35-year-old Victoria man has muscle damage in his foot, but no broken bones, said police spokesman Mike Tucker.
"It's a minor miracle, but the cyclist is OK," he said.
"This guy should go out and buy a lottery ticket. - He's probably lucky to be alive."
Both the cyclist and the truck were travelling east on Burdett Avenue when the collision occurred near the corner of Douglas Street.
The back tire of the truck ran over the bicycle and the cyclist's foot.
We thought you might also be interested in..