Toward a 'smart and caring nation'
Jul 20 2012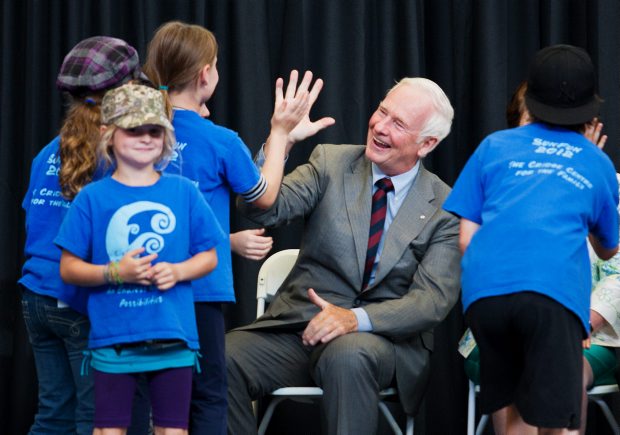 Gov. Gen. David Johnston high-fives children at the official launch of the Victoria Foundation's Smart & Caring Community Fund at the Pacific Institute fpr Sports Excellence on Thursday.
Photograph by:
Darren Stone , timescolonist.com (July 2012)
Gov. Gen. David Johnston stopped in Victoria Thursday to see the launch of the Victoria Foundation's Smart and Caring Community Fund.
The fund is part of a Community Foundations of Canada's national campaign that answers Johnston's challenge to make Canada a "smart and caring nation."
The goal is to have programs in 183 communities by 2017.
The Victoria Foundation's fund designates up to $200,000 to match contributions for two initiatives. One will support the creation of 13 endowment funds for Vancouver Island charities, while the other will support a physical recreation program to fight childhood obesity.
Johnston applauded the Victoria Foundation's program during its launch at the Pacific Institute for Sports Excellence, located at the Camosun College Interurban Campus. Youth participating in the recreation program demonstrated their skills.
"They will be inspired to help others throughout their lives, building on a kindness they were shown early on," he said. "This is contagious, this business."
We thought you might also be interested in..
Notice
: Undefined index: event in
/home/viccity/public_html/v2/content.php
on line
67