CFB Esquimalt projects get a $10.9-million shot in the arm
Jul 20 2012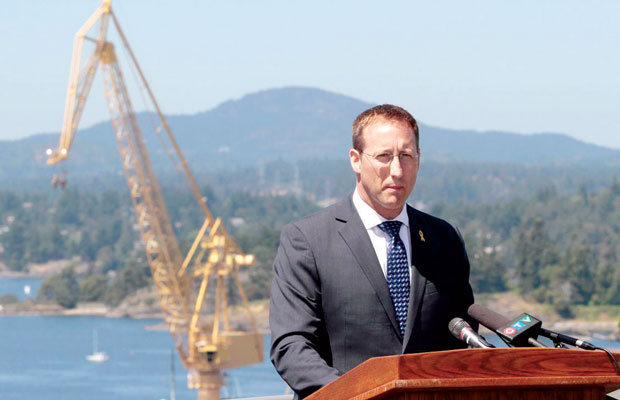 Defence Minister Peter MacKay addresses crowd at CFB Esquimalt on Thursday.
Photograph by:
Lyle Stafford , timescolonist.com (July 2012)
Defence Minister Peter MacKay paid a visit to CFB Esquimalt Thursday afternoon to announce $10.9 million worth of contracts for four infrastructure projects.
It's the latest of a series of announcements MacKay has made across Canada on plans to update military infrastructure, some of which dates back to the Second World War.
"We're trying to get these projects done - after competitive competition, after engagement with local industry," MacKay said.
The largest contract for CFB Esquimalt is worth $5.8 million and went to G&E Contracting to install a new electrical grid at Canadian Forces Ammunition Depot Rocky Point.
Ledcor Construction will soon start on a $2.9-million extension to a building that's part of Fleet Maintenance Facility Cape Breton.
Ruskin Construction will take on a $1.1-million repair to one of the jetties, where the Pacific fleet ships are moored. The repair project to "A" jetty includes replacement of deteriorated piles, bracing, timbers and other key structural members.
Emery Electrical has been awarded a $1.1-million contract to replace a transformer at Canadian Forces Fleet School.
MacKay took the opportunity to praise the military for its contributions, including marine patrols of the coast, intercepting illegal shipments, participating in search-and-rescue missions and fighting international terrorism and piracy.
"Everything you do here every day directly contributes to the safety of Canadians," MacKay said.
MacKay arrived in Victoria from the multinational RimPac exercises in the Pacific, where HMCS Victoria, an Esquimalt-based submarine, fired a live torpedo at a target vessel.
"Having witnessed that event first-hand, I can tell you it was the most exciting, most talked about shot since Sidney Crosby scored his famous goal here in 2010," MacKay said.
Canadians support the military but that support is magnified in communities like those surrounding CFB Esquimalt, he said.
"I believe the military is the most respected institution that we have in our country," MacKay said.
The minister also unveiled a pin commemorating the War of 1812. It is to be worn this year - the bicentennial anniversary of the conflict - by all onduty military personnel.
As MacKay finished his announcement, a representative of the Union of National Defence Employees served a mock layoff notice to him.
Union officials said they decided to make the gesture after MacKay announced new infrastructure last month at CFB Petawawa in Ontario then, shortly after he left, managers informed 88 workers at the base their jobs were in jeopardy.
"We thought we'd give him a taste of his own medicine," said John MacLennan, president of the Union of National Defence Employees. "We want him to see how it feels to get an affected letter."
Ian Wiggs, a local president for the union, handed MacKay the letter, saying it was being delivered on behalf of all "affected workers."
The minister accepted the envelope and quickly walked away.
"You have been identified as an affected employee and your services as a Member of Parliament may no longer be required due to your reckless cuts to public services," the letter, released by the union, stated.
MacLennan said the union intends to turn the heat up on MacKay. More than 1,500 DND workers have been given notices that their jobs are in jeopardy or are being eliminated and the union expects more notices.
smcculloch@timescolonist.com
We thought you might also be interested in..