Bin there, done that? Not until you've decided on container size
Jul 21 2012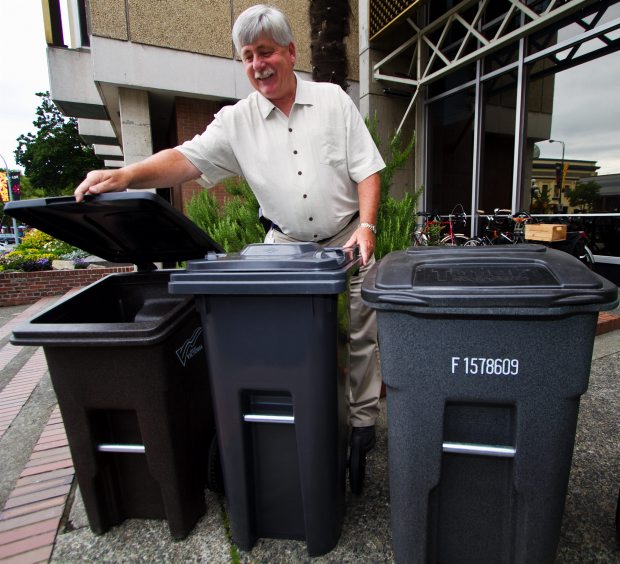 Terry Snow, who heads the city's recycling program, displays bins for the kitchen scraps and garbage program.
Photograph by:
Darren Stone , timescolonist.com (July 2012)n
Victoria residents are being asked to choose the garbage bin that best suits their household's needs.
Starting February 2013, residents will have backyard pickup of both kitchen scraps and garbage every two weeks.
Residents will sort compostable material from regular garbage and pay less if they opt for a smaller size garbage bin. All customers will receive a standard 120-litre green bin for kitchen scraps, a smaller bin for daily collection of scraps for transfer to the larger bin, and their choice of garbage bin.
The garbage bins come in sizes of 80 litres, 120 litres and 180 litres, and have an annual cost of $168, $183 and $204 respectively.
Those fees will replace the current annual garbageonly fee of $202.
A grey bin selection card will be sent to residents by mail. The card should be returned to City Hall by Aug. 17.
The new bins will be delivered to homes in January 2013.
If people choose a bin but decide within a month of delivery that they want a smaller size, it can be swapped for free. Any exchanges that take place after that will require a $30 cleaning fee. Residents can view the bins in the foyer of Victoria City Hall.
It's estimated that a third of material that has been going to the landfill will be diverted into the composting program.
Other Island communities such as Nanaimo, View Royal and Oak Bay are already collecting kitchen scraps.
Residents have been asking for the program "for quite some time," said Terry Snow, manager of solid waste for Victoria.
"I think Victoria residents are very environmentally conscious and many have been composting for years," Snow said.
The program goes beyond the fruit and vegetable scraps put in most backyard compost bins as it also accepts meat, fish, poultry, bones, dairy products and soiled paper products.
"They'll be glad to have the program," Snow said.
"We've had very positive feedback from the majority of the community."
New garbage trucks will allow for the separate collection of garbage and compostable material, but it was time to replace the 17-year-old fleet anyway, Snow said.
> Information is available online at victoria.ca/greenbin or by calling 250-361-0448.
We thought you might also be interested in..