B.C. lawyer challenges refugee act
Jul 21 2012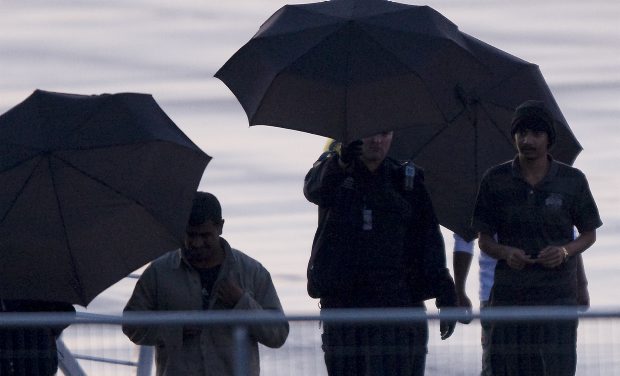 Tamil migrants are escorted off the Ocean Lady at Ogden Point in October 2009.
Photograph by:
Adrian Lam , timescolonist.com (File photo)
A Vancouver criminal lawyer representing one of the men accused of smuggling Tamil migrants aboard the Ocean Lady in 2009 plans to argue the charges are unconstitutional.
Peter Edelmann said Section 117 of the Immigration and Refugee Protection Act, which criminalizes organizing, aiding or abetting undocumented persons to get into Canada, is so broad and vague it can apply to most legitimate refugees.
"If you organize people arriving without proper documents, then you're guilty under [Section] 117. So it would include any refugee family that arrives," Edelmann said.
"Like if a mother brought her children with her, she would be guilty of human smuggling."
Edelmann spoke to the Times Colonist after a pretrial conference Thursday for the six men charged with human smuggling for the Ocean Lady case, in which 76 Tamil migrants came to Victoria in October 2009.
Edelmann is also representing one of the men accused of organizing passengers aboard the MV Sun Sea, which arrived with 492 passengers in August 2010.
The judge will have to decide whether the section is compliant with the Charter of Rights and Freedoms. If Edelmann's argument is successful, the case could be thrown out entirely and the legislation amended.
Federal Crown prosecutor Peter LaPrairie said it would be inappropriate for him to comment because the motion has yet to be filed in court.
The press secretary for Citizenship and Immigration Minister Jason Kenney said the minister disagrees with Edelmann's argument and believes "the legislation is necessary and constitutional."
"Canadians are fair and compassionate, but have no tolerance for those who seek to abuse our generosity for financial gain through the despicable crime of human smuggling, which puts countless numbers of lives at risk," Alexis Pavlich said on behalf of the minister.
Following the MV Sun Sea's high profile arrival, Minister of Public Safety Vic Toews was vocal in denouncing what he said were terrorist groups and human smugglers exploiting Canada's compassionate refugee system.
In response, the Harper government passed legislation that cracks down on so-called "irregular arrivals." Bill C-31, dubbed the Protecting Canada's Immigration System Act, will see long-term mandatory detention for asylumseekers who come by boat.
It will also prevent those refugees from applying for family reunification, travel visas or permanent resident status for five years.
The law applies retroactively to include all passengers on the Ocean Lady and MV Sun Sea.
Pavlich said Bill C-31, which received royal assent on June 28, will "enhance our ability to crack down on migrant smugglers, including by making it easier to prosecute them and introducing mandatory minimum sentences."
"[The] Conservative government is sending a clear message to any criminals overseas thinking about engaging in human smuggling, and to any individuals thinking about paying criminals tens of thousands of dollars to jump the queue - don't do it," Pavlich said.
Vancouver-based refugee lawyer Douglas Cannon, who is representing some of the Tamil migrants from both ships, said it's ludicrous to believe there's a "queue" for refugees.
"It isn't a queue; it's a right," he said, referring to the protections under the Refugee Convention, to which Canada is a signatory.
The trial by jury for the six men charged with human smuggling on the Ocean Lady is slated to start in January.
Sam Nalliah, a Vancouver-based advocate for the Tamil migrants, disagrees with the smuggling charges, saying some of the men were fleeing persecution following a bloody civil war and helping others in the Sri Lankan minority group do the same.
"These crew members are the people who stood between certain death and life," Nalliah said, referring to the years-long bloody civil war in Sri Lanka. "Are they human smugglers or Good Samaritans?"
kderosa@timescolonist.com
We thought you might also be interested in..
Notice
: Undefined index: event in
/home/viccity/public_html/v2/content.php
on line
67