Two dogs rescued from Colwood fire
Jul 21 2012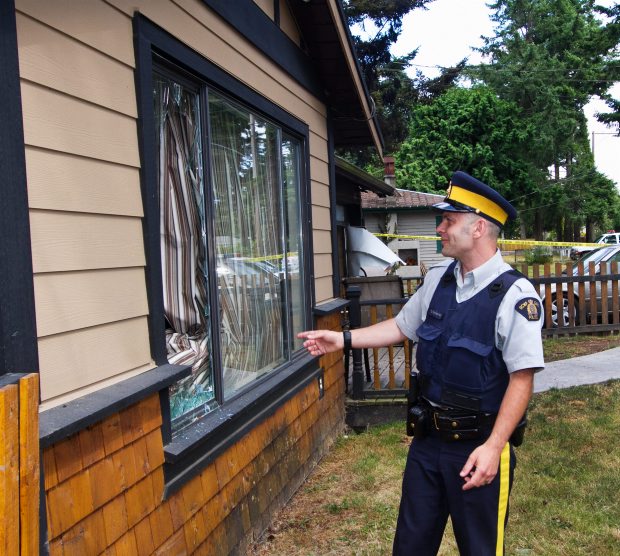 West Shore RCMP Const. Scott Rothermel shows the window he broke Friday to enter a burning Colwood house and rescue a dog.
Photograph by:
Darren Stone , timescolonist.com (July 2012)
A West Shore RCMP officer broke through a window to save a pit bull from a burning house early Friday morning.
"I'm not a hero, I'm just the guy that arrived there first," said Const. Scott Rothermel.
Emergency dispatchers received a call just after 2 a.m. from a man who only got one word out - fire - before the call was disconnected.
When Rothermel arrived at the house at 660 Kelly Rd. in Colwood, the home's carport was engulfed in flames. A truck inside the carport was also on fire, as was the side of the house.
Rothermel said he found half a dozen neighbours outside.
Isaac Wicks said his parents, Tim and Claudia, who live next door, were among them. Wicks said his dad heard explosions, then saw a glow and went outside. He also called 911.
"They were banging on all the windows. They could hear the dog barking, but they didn't know if someone was inside or not," Wicks said.
Rothermel smashed the front window farthest from the flames and entered the burning house.
Rothermel found a pit bull in a hallway at the centre of the house and got it out.
He searched to ensure no one was trapped inside before the smoke in the house became too thick to breathe.
Colwood firefighters searched the house before quickly putting out the fire, which had spread to an unattached garage and a tree.
They found a bulldog on their second search of the house.
Both dogs were handed over to their owner, who had arrived on scene by that point.
Ambulance workers treated Rothermel for several cuts from the broken glass, as well as minor smoke inhalation.
RCMP are investigating the cause of the fire. Two young men live in the house, but were not on the scene when RCMP and the fire department arrived, said RCMP Sgt. Danny Willis.
"One was present, from what we know, and called 911. But then he took off and we haven't talked to him since," Willis said. "We don't know what caused [the fire] and why he took off. - Right now, we have more questions than answers."
>> To see a video of the fire, go to timescolonist.com/more
asmart@timescolonist.com
timescolonist.com
We thought you might also be interested in..