150 Years: One family has been here as long as Victoria
Jul 22 2012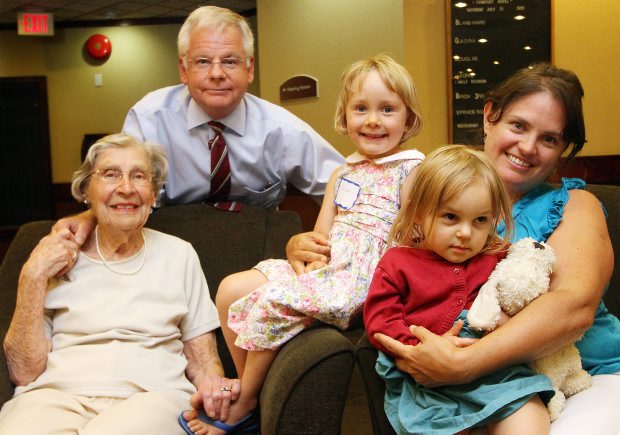 From left: Cora Lawson, Ian Lawson, Annabel Potvin, 4, Lily Potvin, 2, and Alice Savage during the Lawson family reunion on Saturday.
Photograph by:
Adrian Lam , timescolonist.com (July 2012)
As the City of Victoria prepares to mark 150 years, the celebration has special meaning for one local family that has been here just as long.
"We think of it as a milestone for our family, just as Victoria thinks it's a milestone for the city," said Ian Lawson, 61. "I think we took part in the history of Victoria."
The family's roots run deep through the city's history, and the clan can boast a former mayor and a national sports captain - as well as a connection to the city's most famous daughter, Emily Carr - as its own. This weekend, family members aged two to 94 are gathering from as far away as Newfoundland to share that history with each other at a family reunion.
The first Lawson, James Hill Lawson, came to the Island in 1862 from Dundee, Scotland, and worked his way from clerk to land commissioner in the Hudson's Bay Company, Ian said.
When Lawson's neighbours, the Carrs, died in the late 1880s, he became the guardian of their daughter, Emily. Though he sent her to art school in San Francisco, he later told the artist, "That should be enough of this art foolishness," Ian said.
The patriarch's son, James Hill Lawson Jr., opened the Vancouver law firm Lawson Lundell, family documents say. The firm, which still operates today, acted on behalf of American tycoon John D. Rockefeller in the sale of timber property on Vancouver Island to H.R. MacMillan in the 1930s.
Around the same time, another family member, Herbert Anscomb, led Victoria as mayor before taking the role of minister of finance for the province. He was also an accountant - a common profession among Lawsons today, according to Ian, who was one himself.
Like any family, not all Lawson stories are happy. Louisa Macdonald and her son William were among 275 passengers on board the S.S. Pacific en route from Esquimalt to San Francisco when it sank in 1875. (The incident was recounted by 14-year-old Sara Chrystal, who brought a school project to the reunion.)
But the Lawson family influence isn't restricted to the past, Ian says: Mark Lawson is a former captain of the Canadian rugby team.
While residents in Victoria can look forward to the city's official festivities on Aug. 2, the weekend-long Lawson family celebration and history lesson wraps up today, as the Old Cemeteries Society leads the group on a tour of the Ross Bay Cemetery, the final resting place of 64 Lawsons - though not all are part of their family.
Ian says he plans to keep in contact with several of the new friends he's making among family.
"You look at these people and say, they don't know each other, they're strangers," Lawson said. "But they came together to celebrate 150 years." asmart@timescolonist
We thought you might also be interested in..