Long road to hotdog heaven
Jul 22 2012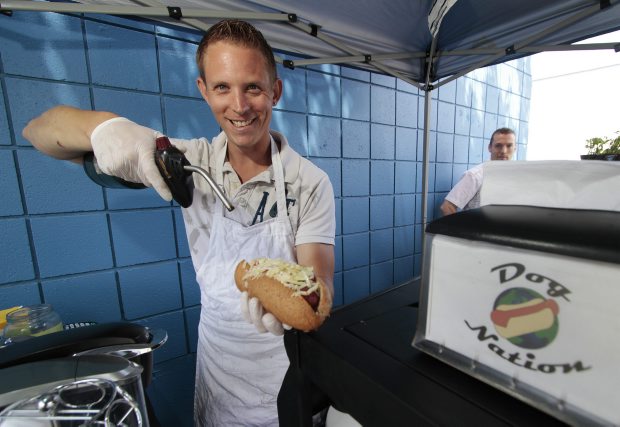 Michael Ransom serves a Greek style hot dog from his food cart, Dog Nation, after a long struggle to secure a licence.
Photograph by:
Lyle Stafford , timescolonist.com (July 2012)
When Stapal Pabla and Michael Ransom came up with the idea of serving gourmet hotdogs styled as they would be in different parts of the world, they never thought they'd have to move heaven and earth to get it approved.
The two bought a used food cart for $2,500 in Vancouver. By the time they got approval to operate in Greater Victoria, almost two years had passed and they had sunk about $30,000 into the project.
"We thought it would be easy," Pabla said. "It met all of the standards in Vancouver, so we thought it would be a piece of cake. We'd bring it down here and maybe have to change a few things."
The two 34-year-olds had no reason to suspect major problems. The food cart they bought still had a City of Vancouver permittooperate decal on it when they bought it for just under half what it would have cost new. The idea for their food cart - Dog Nation - had come when Pabla, a casino worker, travelling with his girlfriend in Las Vegas, overheard a couple talking about Japadog - a Vancouver-based food cart.
"It sparked the idea that if one hotdog cart has enough fame for people down in the States to know about it then maybe it's worth looking into," he said.
CART FELL SHORT OF REQUIREMENTS
The market research looked good, said Ransom, who was working as an industrial medic in the oil patch. Factoring in local demographics, population and tourism numbers (especially cruise ship traffic) and average hotdog consumption, if they could grab half of one per cent of the market, the would-be food vendors' potential annual revenue would be $250,000.
But their cart, licensed in Vancouver, didn't come close to meeting local requirements - even after it had been broken down to the frame, painted and rebuilt.
The list of deficiencies wasn't long but it was expensive.
To begin with, the sinks were neither wide enough nor deep enough and had to be replaced. Then came the refrigeration unit. The cart was equipped with an icebox but the Vancouver Island Health Authority wanted mechanical refrigeration. That took months to sort out, especially given that space was a major issue.
"We ended up having an air-conditioning unit into a refrigeration unit. Then we went through the expense of figuring how to make that run because it uses a fair bit of power - It got pretty pricey," Ransom said.
VIHA also wanted hot and cold running water, so in came the hotwaterondemand propane system.
When health and safety concerns about the cart itself were satisfied, they then had to meet concerns about food storage and draft a detailed food safety plan.
The idea initially was to use either a garage or a vacant secondary suite in Pabla's home for things like storage, prep and dishwashing.
"VIHA didn't want something that was inside a house that could be accessed by other individuals in a house," Ransom said. "So no garage; no one room in a house; no basement suites. It had to be something completely independent from the house so you could only access it from the outside of the house."
The solution was to build a dedicated storage building.
BARBECUE SETUP TAKES SOME HEAT
Once VIHA was satisfied, the barbecue system had to be certified by the Vancouver Island Safety Authority. No problem, they thought. After all, this is a standard propane barbecue, hoses and tank that they bought at Wal-Mart.
"Unfortunately, the procedure for a mobile barbecue on wheels is the same procedure as a full-blown restaurant, as far as the safety authority is concerned," Ransom said.
That meant rather than taking the cart in for inspection, they had to have a pipefitter certify the fittings (which they bought at Wal-Mart) and submit the application. They shopped around and eventually found "a steal of a deal" at $300 for a pipefitter.
The original goal was to set the cart up somewhere in downtown Victoria.
But aside from a few grandfathered operators, the city doesn't permit such carts on public property. So they had to start a search for a private, commercially zoned lot.
It wasn't easy. They ended up on Ransom's grandfather's lot at Derick's Automotive Services near the more industrial corner of John and Government streets - where they do a killer lunch trade, but it naturally dies down in the evening when local businesses close. And having cleared the health officials, they now are jumping through municipal hoops.
VENDORS ROLL OUT, BUT HIT NEW SNAGS
The guys wanted the ability to move the cart around to special events so they bought an intermunicipal business licence from Saanich. No problem, they were told. They were categorized as a home-based catering business and issued a licence.
The two didn't think anything more about that until they tried to set up outside a
Saanich nightclub to catch the after-hours crowd.
They contacted the Saanich police community liaison - as a courtesy. The next thing they knew, they were contacted by Saanich municipal hall and told they didn't fit the criteria for the catering licence they had been issued.
"They phoned us up and said: 'We don't license vending carts,' " Ransom said.
That has left Dog Nation in the process of getting a Victoria vendor licence.
That's not easy, either. To get the municipal vending licence they need: VIHA and Safety Authority approval; a set location with set hours on private, commercially zoned property along with a letter from the owner of that property stating they have an agreement to be there in those hours; and a diagram showing the property and where they will be located.
Victoria Coun. Lisa Helps, who is trying to cut through the red tape to allow more street vendors to operate in Victoria, believes regulations should encourage - not discourage - young entrepreneurs like Pabla and Ransom.
She pointed to local businesses like 2% Jazz Coffee and Noodle Box, which both started as street vendors.
"Now [2% Jazz] has two bricks-and-mortar locations, one of which is in a new building downtown. It's the same with Noodle Box. Noodle Box started with a food cart downtown and now he's got three locations," Helps said.
"It really is a way to grow business and provide opportunities for these young guys."
THEY SHOULD HAVE CHECKED THE RULES
VIHA spokeswoman Shannon Marshall said what both Pabla and Ransom freely admit: they should have checked out the regulations before buying their cart.
VIHA's mobile cart guidelines are based on the provincial Food Premises Regulation, so they don't vary that much from Vancouver's, Marshall said.
But what can vary cart requirements is the proposed menu. For example, selling 18 varieties of hotdogs with 18 varieties of condiments (as Dog Nation does) would require more stringent requirements than would selling one type of hotdog.
Upbeat and energetic, the two budding businessmen are not bitter about their ordeal. Theirs is a cautionary tale, they say, adding that everyone they dealt with was professional and helpful.
"It's the regulations, not the people," Ransom said.
"The people were great." bcleverley@timescolonist.com
We thought you might also be interested in..