Ted Harrison Studio in Oak Bay closing doors
Jul 23 2012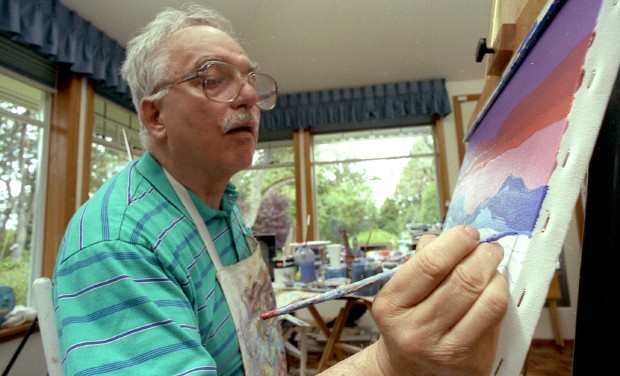 Ted Harrison was enjoying painting at his home in Oak Bay in July 1993 when this photo was taken.
Photograph by:
Ray Smith , timescolonist.com
Six years since first opening the doors to his gallery and studio in Oak Bay, renowned artist Ted Harrison will be closing it.

Harrison, 85, paints less frequently these days and it made sense to move sales online, said gallery manager Kaitlyn Webb Patience. But Harrison has enjoyed welcoming visitors to the Ted Harrison Studio to watch him at work since 2006.

"It was something that he thought would be a fun idea," said Webb Patience. "He just doesn't get to the studio as often — and he is the main attraction."

Harrison is best known for his colourful paintings of the Yukon, where he lived for 25 years. As one of the country's most popular artists, he received the Order of Canada in 1987. He moved to Oak Bay 19 years ago.

Webb Patience, who has managed the studio for 20 months, said working with Harrison has been a memorable experience.

"He's the most amazing, charming, modest man that you will ever meet," she said. "He knows that [art] is about creating something that people will love — he doesn't treat it as sacrosanct."

Harrison will play host to a final party at the Ted Harrison Studio Aug. 9 from 3:30 p.m. to 5:30 p.m.

"It's kind of a say-goodbye-to-the-studio and say-hello-to-Ted-event," Webb Patience said.

The studio officially closes its doors Aug. 31.

asmart@timescolonist.com

We thought you might also be interested in..