Sewage system opposition: CRD could be stuck with total bill says ex-MP
Jul 24 2012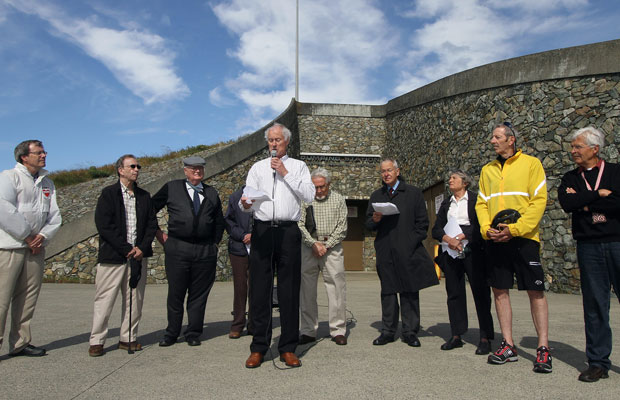 Brian Burchill speaks as he and other members of ARESST, the Association for Responsible and Environmentally Sustainable Sewage Treatment, gather Monday at the Clover Point pump station to denounce the CRD plan.
Photograph by:
Adrian Lam , timescolonist.com (July 23, 2012)
Despite last week's commitments by the provincial and federal governments to fund their shares of the capital region's planned $783-million secondary sewage treatment plant, there's no money in the bank and there may never be, former Liberal Victoria MP David Anderson warned Monday.
"They gave a reaffirmation of an intention but nothing more than that," Anderson said. "They didn't advance anything with respect to the federal contributions - other than to put on conditions we didn't know about before.
"And with respect to the province, they are not giving a single dollar until the whole shebang is up and running - and by then, it won't be the same premier."
Anderson was a key speaker at a press conference in front of the Clover Point sewage pumping station off Dallas Road in Victoria Monday, as the Association for Responsible and Environmentally Sustainable Sewage Treatment gathered to launch its campaign and online petition (at aresst.ca) against construction of the sewage treatment plant proposed for McLoughlin Point in Esquimalt.
The Capital Regional District plans to issue requests for qualifications from builders before the year's end.
Last week, the federal government announced its total $253.4-million contribution toward the McLoughlin wastewater treatment plant and marine outfall, as well as conveyance system upgrades, part of the estimated $782.7-million capital cost of the secondary sewage treatment system.
That federal funding is conditional on: Treasury Board approval; the signing of the contribution agreements; meeting all the terms and conditions of federal infrastructure programs; and meeting all legal obligations - for example, those related to First Nations consultation and environmental assessment.
In response to Anderson's comments, Ottawa insisted the promised money for a new wastewater treatment system in the capital region is safe.
"The Government of Canada has set aside up to $253.4 million under various federal infrastructure funding programs for these specific projects," Infrastructure Canada said in a statement.
B.C. Conservative MP James Moore said at the Inn at Laurel Point last week that Treasury Board approval is a technical matter and "there should be no reason to be concerned the money won't be flowing."
The province capped its funding at $248 million, adding it would come forward with the money only when the project is substantially completed. That's expected to be in 2017-2018 or 2018-2019.
"I thought they [the province] were pretty skilful in punting this whole issue forward seven years by saying they won't do anything until it's completed," Anderson said.
"They can't bind a future government, they haven't signed any contract and the current government will be long gone and probably even its successor will be gone by 2020," he said.
The CRD says it's on the hook for the balance of the capital cost, estimated at almost $281.3 million, as well as operating costs of $14.5 million per year, land acquisition costs and any cost overruns. Anderson said the CRD might get hit with the whole price tag.
For five years, the Association for Responsible and Environmentally Sustainable Sewage Treatment has lobbied for the current plan to be scrapped and for improvements to be made to the current method of screening and discharging effluent into the Pacific.
Currently, the region's sewage receives preliminary screening to remove solids larger than six millimetres prior to being shot out about one kilometre into the ocean, roughly 60 metres deep.
The group argues that Greater Victoria's unique marine environment of cold, deep waters, with strong tidal currents, shows little sign of harmful pollution under the current system. It says the proposed treatment plant would be a waste of money, with little environmental benefit.
The group wants an environmental impact assessment of the current practice compared with the proposed system.
In 2006, the provincial government ordered the CRD to proceed toward land-based sewage treatment. Federal regulations, which came into effect last week, require Greater Victoria to comply.
The association wants an exemption for Victoria from the federal regulations. If that's not possible, it notes, the federal government has indicated it would give cities at lower levels of risk of harmful pollution 20 or 30 years to come into compliance.
ceharnett@timescolonist.com
We thought you might also be interested in..