Central Saanich to move against camp for former street people
Jul 24 2012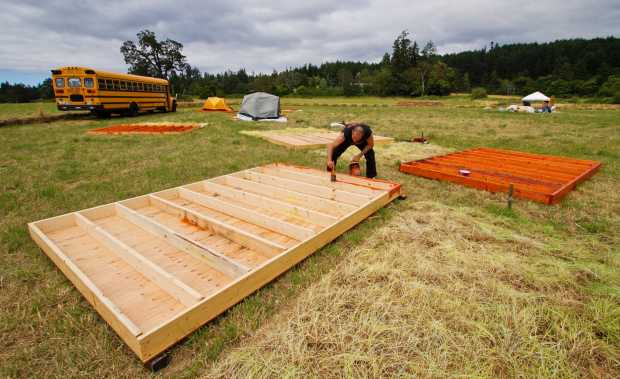 Sean Manley works on tent platforms at a camp for homeless people at Woodwynn Farm in Central Saanich.
Photograph by:
Darren Stone, Victoria Times Colonist , timescolonist.com July 23, 2012
Central Saanich council made it clear Monday evening that they are going to take a stand against the camp at Woodwynn Farm.

Acting Mayor Cathie Ounsted, in a surprise statement, said the municipality will be moving forward on bylaw enforcement in response to complaints from Central Saanich residents.

A group called the Creating Homefulness Society is trying to establish a therapeutic farm community for up to 96 former street people on the 78-hectare property at the corner of West Saanich Road and Mount Newton Cross Road.

Ounsted said council recognizes that problems of homelessness transcend municipal boundaries, but must respond to complaints that fire and noise bylaws are being contravened.

Creating Homefulness executive director Richard Leblanc said in an interview that he does not know how the bylaws will be enforced and council's position will not change anything. "We will just keep doing what we are doing," he said.

Woodwynn's application to rezone one-hectare of the property to allow housing on the site was turned down by the Agricultural Land Commission, but Camp Compassion has since sprung up on the farm.

Council received about 30 letters on the Woodwynn issue, including more than a dozen from grades three and four students at Keating Elementary School asking that council allow housing for homeless people at the farm.

However, the majority of the remaining letters asked council to enforce the bylaws and put an end to Camp Compassion.

Letter writer Terry Albrecht compared Leblanc to a bully.

"The municipality needs to stand their ground, stand behind the laws — otherwise enforcing them in the rest of the municipality will be difficult," the letter said.

Ginny Gareau wrote that the group knew the rules when they bought the land.

"I find it troubling that the leaders of this group would deliberately ignore the decision of the ALR as though they have no need to obey the rules like we all do," she said.

Ounsted said the use of the property for a camp contravenes the municipality's land use bylaw.

"They would need a temporary land use permit for camping, and they have not applied," Ounsted said.

A letter will be sent to Leblanc, followed by a visit, she added.

"We are hoping for voluntary compliance. And then, we will consider the next steps depending on the property owner's response to the letter."

jlavoie@timescolonist.com


We thought you might also be interested in..
Notice
: Undefined index: event in
/home/viccity/public_html/v2/content.php
on line
67