Group fights to keep control of Sidney summer market
Jul 24 2012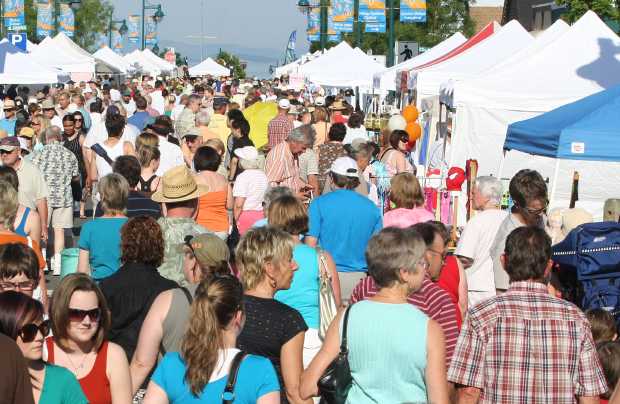 The Sidney market draws big crowds on summer Thursdays.
Photograph by:
Bruce Stotesbury, Victoria Times Colonist , timescolonist.com
The association that runs the popular Sidney summer market is fighting to retain control of an event that draws thousands of people to the town every Thursday night from June through August.

The Sidney Business Association issued a statement Monday criticizing Sidney council for deciding to terminate the association's business licence after this season. The association's board of directors says its competence has been wrongly called into question by town officials.

"We find this ludicrous given that we have operated successfully one of the largest outdoor night markets in Western Canada, and have had it voted the No. 1 outdoor event on the peninsula for the last 10 years running," the statement said.

Sidney council announced this month that it had issued six months' notice to terminate the association's business licence. The town plans to issue a call in mid- to-late August for bidders to run the market next year.

"A key objective of Sidney council is to maintain the Sidney Summer Market and ensure its long-term success and sustainability," Mayor Larry Cross said in a July 4 statement.

Cross said in an interview Monday that the Sidney Business Association's audit committee has flagged a number of serious financial issues facing the organization.

"Our concerns are basically that if they're not financially viable — and they're very close to the edge — that we need to have a market next year," Cross said. "So we're not going to mess around. We're going to make sure we have one."

The association plans to fight back by posting its financial statements on its website within the next 30 days to alleviate any concerns about its viability, president Ross Macfarlane said Monday.

"We want to get the whole community on our side to give it back to us for next year again," he said.

The association countered council's concerns by accusing the town of charging "exorbitant" amounts for the use of Beacon Avenue, where the market is held. The association paid more than $16,000 last year, which it says is the highest fee paid by a market anywhere in Canada.

"Initially, it was zero and then, over the years, it's just been going up and up and up," Macfarlane said. "We're not even close to the next highest one in all of Canada — that's including Montreal and Toronto and Vancouver."

But Cross said the town is simply covering its costs in overtime, services and supplies. "There's no reason why the residents of Sidney should subsidize [the market]," he said.

Both sides say the ongoing dispute will have no effect on the current season. The market will continue to run every Thursday from 5:30 p.m. to 8:30 p.m. and feature more than 200 vendors.

lkines@timescolonist.com


We thought you might also be interested in..