When tiny toads hit the roads, rescuers make crossing safer
Jul 25 2012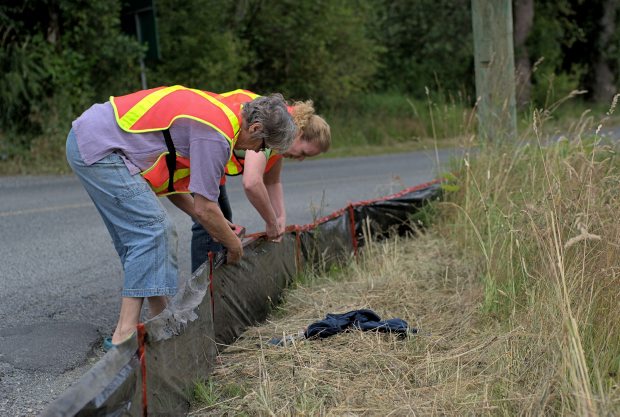 Volunteers set up a barrier to protect migrating western toads from crossing a road in the Cowichan Valley.
Photograph by:
Submitted photo , Toad Hollow Photography
Some Cowichan Valley residents are ready to dodge traffic on rural roads to help a protected species hop to a safe crossing.
The juvenile western toads, or toadlets, are about to cross River bottom Road near the Lake Cowichan Highway and Riverside Road near Cowichan Station as they move from wetlands where they were hatched to areas where they live out the rest of their lives.
In years past, many have been killed as they struggled to cross the road.
But Kent Ball has devised a system where they're blocked by a fence at the roadside and funneled into ice-cream buckets. At the height of the migration, with thousands of toadlets gathering by the road, the buckets can fill up every 15 minutes.
Ball and his volunteers then move the collected toadlets across the road and release them.
"I'm not a biologist," Ball said. "I'm not a scientist. I just wanted to give them a helping hand."
He got involved with the toads near his home on Riverside Road because he hated to see them squished by passing cars heading up to the newly restored Kinsol Trestle and Trans Canada Trail. He checked around and developed a system for collecting the toadlets, then got the OK from a University of Victoria biologist.
Local businesses have donated many of the materials.
Once the toadlets start moving across the road, the procession continues for about a week during daylight hours.
"It happens very quickly and dramatically," volunteer Laurie Johnson said of the toads' travel.
"They need ponds and riverbanks in order to spawn. [The newly hatched toads] hang out there for about three weeks and then turn into these toadlets and start making their migration to wherever it is they're going to live as adults."
Ball estimates he moved between 7,000 and 8,000 toadlets across Riverside Road during his first year.
Last year, he helped between 10,000 and 12,000 toadlets.
Ball hopes that the next phase will involve the Ministry of Transportation installing culverts that could offer the toadlets safe passage.
"They're really a unique species and they're worth protecting," said Ball.
Western toads are relatively common throughout most of the province, but their populations have declined in southwestern B.C., perhaps to loss of wetlands, which are their habitat, and they are considered a species of special concern.
smcculloch@timescolonist.com
WESTERN TOADS
? Appearance: Stocky bodies with short legs. Yellowish, dusky, tan, grey or greenish on top.
? Size: They start out as toadlets the size of a fingernail and grow to the size of a man's fist.
? Life cycle: Western toads live up to 17 years. It takes them four years to be mature enough to breed. Males breed every year but females only breed once in their lifetime.
? Habitat: Wetlands throughout B.C.
? Status: Species of special concern.
We thought you might also be interested in..
Notice
: Undefined index: event in
/home/viccity/public_html/v2/content.php
on line
67