Emergency workers applaud blood test act
Jul 25 2012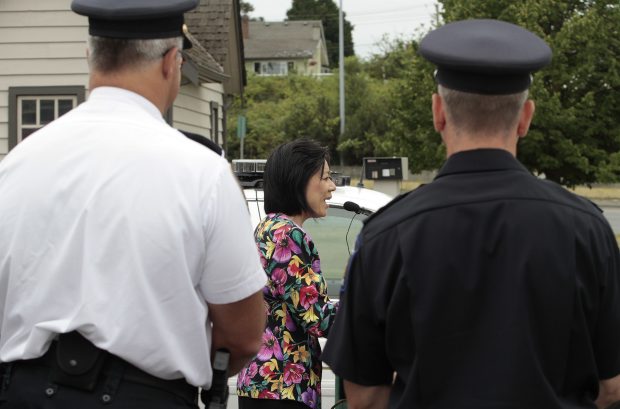 Oak Bay-Gordon Head MLA Ida Chong speaks about the Emergency Intervention Disclosure Act on Tuesday. Chong says the law, which passes May 31, is about keeping front-line workers safe.
Photograph by:
Lyle Stafford , timescolonist.com (July 2012)
Firefighters, police and paramedics are applauding a new law that will help determine whether they've been exposed to communicable diseases on the job.
The Emergency Intervention Disclosure Act, passed May 31, allows emergency workers to get court orders compelling blood samples from people in high-risk situations. Before the legislation, workers waited months before knowing if they had accidentally contracted viral illnesses such as HIV or hepatitis.
"When we have been notified that we have been exposed to something, it's a very, very scary feeling," said Saanich Fire Capt. Brock Henson. "What this legislation does is bring us peace of mind."
Saanich Police Sgt. Dean Jantzen said emergency responders come into contact with bodily fluids on a weekly basis and don't always have the opportunity to protect themselves.
"If you end up having to restrain someone who's violent, strapping on gloves and putting something on to cover your eyes isn't always your first thought," he said.
He also said it would make workers' compensation claims easier to make by establishing a presumption of exposure.
But critics say the legislation is an unnecessary infringement on privacy rights. In a letter to the government, Information and Privacy Commissioner Elizabeth Denham called it "the most intrusive form of privacy infringement," saying it takes away a person's right to control their "bodily integrity."
Provincial health officer Perry Kendall has said there is a better option - one that would avoid the privacy issue altogether and provide better information. New advancements in polymerase chain reaction testing mean minute amounts of viruses in the blood can be detected earlier.
Emergency workers would take the tests themselves, rather than compelling someone who refused.
"If first responders were guaranteed access [to the tests]," he wrote in a letter to the Times Colonist, "they could learn with a high degree of certainty in the same timeframe as the proposed court process, if they had been infected, rather than exposed."
Compelling blood tests may also strengthen the negative stigma for people living with HIV/AIDS.
"[It] may further stigmatize people who are already living their lives under the weight of that stigma," said James Box shall, acting executive director of AIDS Vancouver Island.
As with all legislation, the new law may be challenged, said Oak Bay-Gordon Head MLA Ida Chong. But the intent is to protect those working on the front lines.
"These individuals work every day to protect our lives," she said.
"They should feel that they can protect their own - and their families, too.
That's what this is really about."
asmart@timescolonist.com
We thought you might also be interested in..
Notice
: Undefined index: event in
/home/viccity/public_html/v2/content.php
on line
67