Injured porpoise stranded near Songhees Reserve shore
Jul 25 2012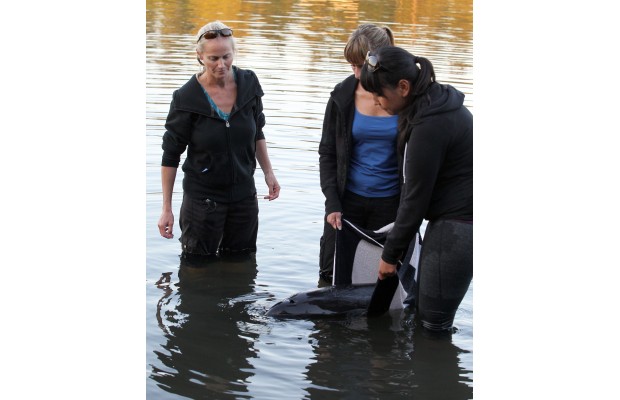 Biologist Anna Hall, left, of the B.C. Marine Mammal Response Network, and volunteers Judi Fitzgerald and Desiree Holmes tend to an injured porpoise on Tuesday.
Photograph by:
Bruce Stotesbury , timescolonist.com (July 2012)
An injured harbour porpoise became stranded and was awaiting rescue near the shore of the Songhees Reserve in Esquimalt on Tuesday.

A mother and her daughter discovered the porpoise about 4:30 p.m. at the foot of Maple Bank Road near the Songhees longhouse.

Anna Hall, who answered a call for help on behalf of the B.C. Marine Mammal Response Network, said the porpoise had a number of wounds, likely from rubbing up against rocks near the shore.

She and other volunteers were trying to keep the porpoise calm and its blowhole above water late Tuesday evening, while awaiting a boat that would take it to the Vancouver Aquarium Marine Mammal Rescue Centre.

"In terms of why the animal is here or what's happened or what caused it to come this close in — at this point we don't know," Hall said. "The folks at the rescue centre will have a much better ability to answer that."

We thought you might also be interested in..
Notice
: Undefined index: event in
/home/viccity/public_html/v2/content.php
on line
67