Truck left at scene of Colwood fire leads to two arrests
Jul 25 2012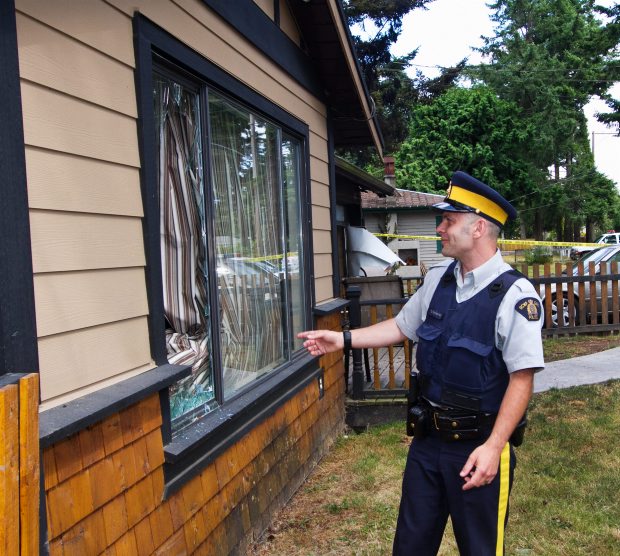 West Shore RCMP Const. Scott Rothermel shows the window he broke Friday to enter a burning Colwood house and rescue a dog.
Photograph by:
Darren Stone , timescolonist.com (July 2012)
West Shore RCMP are recommending charges of arson against two men they suspect started a house fire in Colwood late last week, saying they were able to identify the men because one had left his truck at the scene.

The mysterious fire at 660 Kelly Road made headlines last week when Const. Scott Rothermel broke through a window in the burning home and rescued a pit bull inside.

Police have since learned the home was set up to grow marijuana and say the fire was a targeted arson. They were able to identify the suspects after one man falsely reported his vehicle stolen.

"It's one of those things where a person leaves a wallet behind and gets caught," said West Shore RCMP spokesman Sgt. Max Fossum.

The vehicle was parked about 60 metres from the burning home and reported it stolen to the Saanich Police.

"A good investigation and good communication between Saanich Police and West Shore detachment led to the quick arrest of the two males for the arson," Fossum said.

Police will also recommend public mischief charges for the owner of the truck who reported his vehicle stolen, which was likely a ploy to avoid arson charges, they said.

The call for the fire came in around 2 a.m. on Friday. When Rothermel arrived, the carport was on fire as well as the truck inside the carport.

The Kelly Road home had been set up for growing marijuana, but no plants were in the house at the time. Police say the owner is licensed to grow pot.

The owner is known to police, but Fossum would not provide details. He also said police do not know where people are growing pot even if it is a legal growing operation.

"I would not know the locations," Fossum said. "If my neighbour was growing, there is that risk of a fire. It's not what happened in this case, but it is a risk."

dspalding@timescolonist.com

We thought you might also be interested in..
Notice
: Undefined index: event in
/home/viccity/public_html/v2/content.php
on line
67