It's oysters Craigflower to go
Jul 26 2012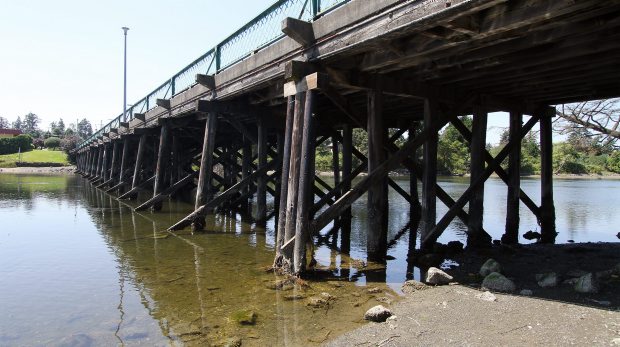 Olympia oysters, which are native to B.C. but rarely found in the wild, are nestled on the seabed of the Gorge waterway and cling to the pilings of the 78-year-old Craigflower Bridge, which is being replaced in a $10.8-million project.
Photograph by:
Adrian Lam , timescolonist.com (July 2012)
The replacement of the historic Craigflower Bridge means some long-time inhabitants are going to have to find new digs.
The 78-year-old bridge, which spans the Gorge waterway and links Esquimalt and Saanich, is being replaced, but the $10.8-million project cannot go ahead if it harms local species - including a population of Olympia oysters that lie on the seabed and cling to the pilings.
The tiny oysters are native to B.C. but rarely found in the wild due to overharvesting in the 19th and 20th centuries.
The more common oyster found on the coast these days is much larger and came from Japan.
A survey by divers brought the presence of a 20-centimetre layer of oysters under the bridge to light, said Jim Hemstock, manager of capital works for Saanich.
"We're going to get an authorization from the Department of Fisheries - and we'll have to move them," Hemstock said.
Once approval is granted, divers will collect the oysters and place them in nearby eelgrass beds.
"You have to be careful - you can't harm them, you can't walk on them," he said.
The concrete pilings of the new bridge will be corrugated so that a new crop of oysters can find a home there.
"[The pilings] have these grooves and the oysters just love these grooves - they're going to be real good habitat for the oysters to grow," Hemstock said.
It's unclear if the bridge somehow protected the native oysters from fishing or predators. Hemstock suggested that the pilings cause the water to swirl around and stir up tiny bits of food for the filter eaters.
Authorization to move the oysters is expected within a month. Construction of the new bridge is slated to begin in 2013.
The oysters are just one species affected by the replacement of the bridge and refurbishment of its approaches. Trees along the approaches can't be cut down if any birds are nesting in them.
Owls are most the likely inhabitants, so a consultant was called in to play a recording of owl calls.
"It hooted all night for several nights," Hemstock said. No responses were heard, indicating the trees in the neighbourhood aren't home to owls.
smcculloch@timescolonist.com
We thought you might also be interested in..