Transit gaining, but car still king, CRD report says
Jul 26 2012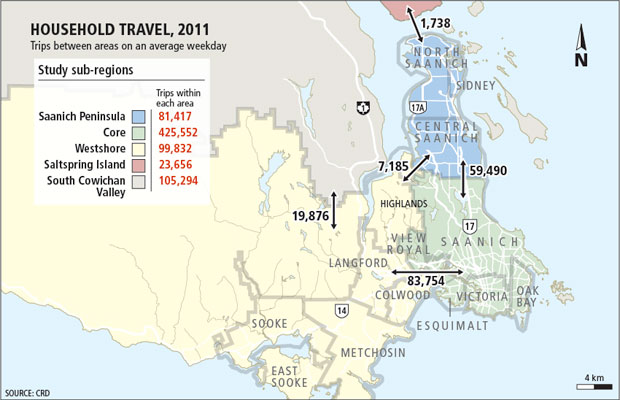 Household travel.
Photograph by:
timescolonist.com , CRD
Transit ridership in Greater Victoria inched forward to record levels in the past year, but the automobile remains the preferred option for commuters, according to a survey by the Capital Regional District.
Despite the number of bus trips climbing to 25.53 million in 2011-12, about 78 per pent of commuters drive to work, compared with 20 per cent who ride bikes, walk or use transit.
The CRD's Origin Destination Household Travel Survey shows the percentage of people choosing vehicles as their primary mode of transportation has not changed since the survey was last conducted in 2006.
Planners say a lack of infrastructure for bike-and bus-priority lanes has deterred a larger portion of the population from getting out of their vehicles.
"Until you see that infrastructure, you won't see people changing their habits," said Bob Lapham, the CRD's general manager of planning.
Infrastructure plans are coming. Over the next two years, the CRD will continue to roll out its pedestrian and cycling master plan, which was released last year, and B.C. Transit will study where to introduce bus-priority lanes.
The CRD aims to increase walking and cycling along 900 kilometres of roadways throughout Greater Victoria by working with municipalities to slowly implement changes over the next decade or two.
The Greater Victoria Transit Commission plans to create bus-priority and high-occupancy vehicle lanes on some busy corridors.
"I think it's frustrating for everyone stuck in congestion on the TransCanada Highway," said Meribeth Burton, spokeswoman for B.C. Transit. "If we can get people to their workplaces more efficiently, they're going to have more incentive for them to leave their vehicles at home."
Bus ridership went up just 0.4 per cent from last year, but Transit staff consider the bump a success considering that service levels were cut by 7,000 hours.
Preliminary survey results show that most vehicle commutes on an average weekday from one municipality to another were between Saanich and Victoria. About 127,756 people drove vehicles in and out of the two communities.
Few survey details were available Wednesday, but a full report will be presented in the fall, Lapham said.
Figures show traffic trends for commuters in automobiles heading in and out of the West Shore, the Saanich Peninsula and the core municipalities.
There were about 425,500 internal trips within the core region of View Royal, Esquimalt, Victoria, Saanich and Oak Bay.
About 83,700 people travel between the West Shore and the core, compared with about 59,400 trips between the core and the Saanich Peninsula.
The Saanich district has 566,500 external trips and 159,800 internal trips. Victoria has 307,600 external trips and 170,700 internal.
About 7,000 trips are made from the peninsula to the West Shore.
dspalding@timescolonist.com
We thought you might also be interested in..